6 Things You Must Know About a Seasonal Campsite in 2023
Renting a long-term space at a campground and leaving your RV there even when you aren't using it is known as seasonal camping.
Packing, towing, and putting up is no longer a headache.
As RV sales increase, seasonal camping is growing in popularity, and it might be for you!
We'll cover all the specifics of seasonal camping in this article, along with its benefits and drawbacks, and how to decide if it's right for you.
Let's start now.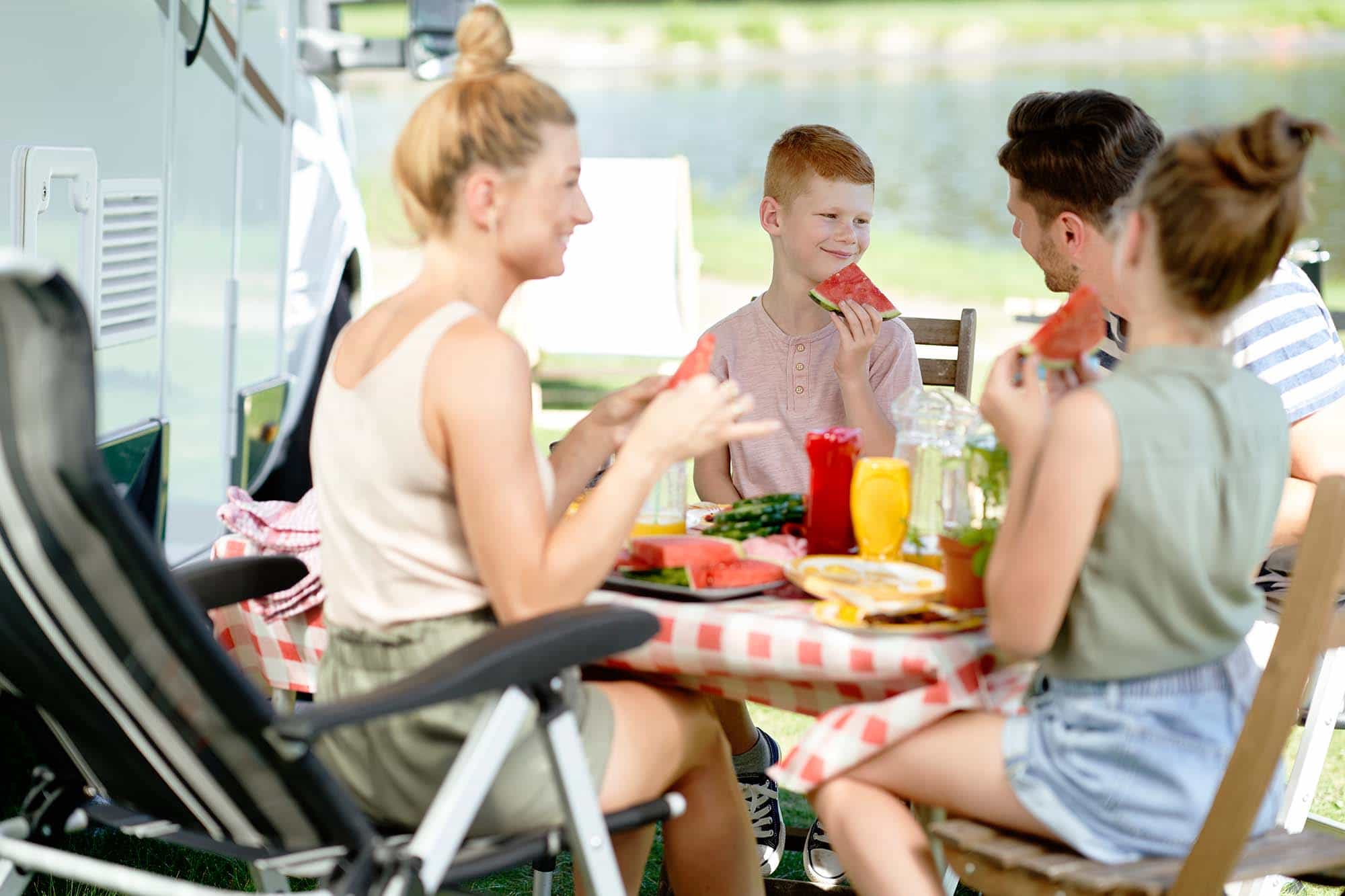 1. WHAT IS A SEASONAL CAMPSITE?
Maintaining a multi-month RV or motorhome campsite at a certain campground from May to October is the fundamental meaning of seasonal camping.
For the duration of the season, your RV or motorhome will be parked at your campground, and you are free to come and go as you like.
2. WHAT ARE THE BENEFITS OF A SEASONAL CAMPSITE?
There are several benefits to seasonal camping (why else would people do it?).
Here are some good reasons to start camping seasonally.
It offers the chance to go camping more frequently.
You already have a location where your RV or motorhome is put up if you only camp sometimes.
You can go camping whenever you have a free weekend or week.
During busy seasons of the year, you don't have to bother about looking for a campground or ensuring sure a reservation is still available.
You can always find an adventure if you're seeking for one.
Bonus points if it's a location close to your home because camping will be more convenient and accessible.
The pressure of packing is reduced.
Camping is enjoyable, but it can also be stressful.
You might even decide against going if you work during the week since you don't want to deal with the packing and unpacking that a weekend getaway would involve.
You've already done the hard work when you have a seasonal campsite.
All of your possessions are organized and prepared to go in your camper or RV, which is already there.
You can simply travel there and spend the weekend taking in Mother Nature!
It makes it easier to get to know other campers.
While some people adore camping as a lonely hobby, others find it to be genuinely communal.
You'll adore seasonal camping if your concept of the ideal camping weekend involves meeting new friends with other campers.
The same folks will be present in the same location.
They'll come to know you, and you'll get to know them.
It provides the sense of community that you would find in a typical neighborhood when you go camping.
It reduces costs.

Camping is not inexpensive.
Thankfully, you may consider seasonal camping to be a "bulk" purchase.
This can help you save a ton of money on one of your favorite hobbies, depending on how frequently you use it, the size of your family, where you live, and your particular preferences.
3. WHAT ARE THE DRAWBACKS OF SEASONAL CAMPING?
There are certain disadvantages to seasonal camping.
Here are some things to consider if you decide to do it.
It might or might not be advantageous for you to leave your RV or motorhome parked at a campsite throughout the season, depending on how you usually use it.
It probably won't be an issue for you if you simply use your RV or motorhome for camping.
Seasonal camping, on the other hand, may be restrictive and result in you using your RV less than you otherwise would if you typically use it for travel.
Additionally, you might discover that it isn't worth the effort or money if you wish to visit several campsites a few times a year in addition to having your seasonal permit.
In either case, the permit will cost you a few thousand dollars.
If you already have things set up, is it worthwhile to spend the time and money to move to a different campsite?
Some will accept this and say yes since they enjoy camping in new places.
However, since many visitors will choose the easiest option, there are fewer campsites every year.
difficulty in locating a campsite
Seasonal camping is worthwhile if you adore the setting.
However, if you don't, you might not be prepared to commit.
Just because seasonal camping is simpler in many respects doesn't mean you should accept it.
Because it's a worthwhile long-term investment and you adore the region you've chosen, choose seasonal camping.
4. IS SEASONAL CAMPING FOR ME?
Here are some things to consider to determine if you should go on such a camping trip.
You tend to wait until the last minute before leaving for the campground.
It's a real pain to scramble at the last minute to find a campground when you're not a planner.
Forgoing the hassle of making a reservation is a major perk of renting a seasonal space.
The location is ready and waiting for you on any weekend that works for you.
Persons who enjoy camping so much that they would choose it above nearly any other activity will also benefit from this.
Plans changing? Great!
It's time to hike up to the campsite.
– You don't like going on camping trips on the weekend
Not everyone enjoys spending the weekend in the great outdoors.
It may be late by the time you leave work on Friday, get home, pack, and have your RV connected up and ready to go camping.
In reality, you'll be dealing with the same problem on Sunday as you prepare to head back home after a long week of work.
With only one day of pleasure each week, some may question, "Is it really worth it?"
Many of these issues can be avoided with seasonal camping because you just need to bring the bare minimum each weekend.
Your campground is already equipped with most of the supplies you'll need, and you'll have a much easier time of it overall.
You must pay for the use of a storage facility that is not on-site.
The additional cost of a seasonal campsite may be worth it if you already pay to store your RV or camper somewhere (due to a HOA or otherwise).
You can make use of your campsite, unlike with an off-site storage unit.
You're in search of a camping group.
As was previously mentioned, seasonal camping is a fantastic opportunity to make new friends.
You may find that a certain campground is like a community because of the number of people that stay there who want to interact with one another.
But if you appreciate camping because it's a great way to "get away," this might not be a plus for you.
Talking to others or seeing familiar faces may become unpleasant.
Having a cheap vacation house is something you're interested in.
The experience of camping for an entire season is similar to that of owning a second home.
Camping is a great way to unwind, especially if it takes place in a place that you really enjoy visiting.
It encourages you to go use it as often as possible.
On Fridays, at 3 o'clock, you get out of the office early and head straight home.
This weekend, instead of working, why not drive up to your campsite and relax?
When everything is set up and paid for, it seems like the natural next step to take.
The neighborhood around your home is perfect for you.
Considering seasonal camping if you already spend a lot of time in your local area.
Some people's happy place is at a state park, on a beach, or beside a lake where they can go back time and time again.
Both the short driving time and their fondness for the locale make the trip worthwhile.
So long as you're already doing it, you might as well make it permanent.
5. SHOULD I STICK TO MORE TRADITIONAL CAMPING?
If the preceding paragraph didn't strike a chord, and you don't mind the camping hustle, then maybe you'd enjoy more conventional camping.
Here are some of the reasons why you might be better off doing a traditional camping trip than a seasonal one.
Different destinations hold more appeal for you.
You might not enjoy returning to the same campsite year after year if you've always enjoyed exploring new ones.
Not until you've settled into a place you adore…
Try not to accept mediocrity.
Whether in a motorhome or recreational vehicle, you're on the road.
Your RV's or motorhome's entry and exit from your seasonal camping spot may be difficult if you use it frequently for trips other than camping.
The ability to leave an RV or motorhome set up is a major selling point for many campers.
You're crazy about the building and crashing parts
Some campers find the initial setup and final breakdown to be a major pain point of every camping trip.
Other people view it as an integral part of the adventure.
It's the same as camping, only better.
Having a seasonal site means you'll only be updating it occasionally.
The campsite is ready for you to arrive at with nothing more than a duffel bag full of clothes and a cooler full of food.
It's a new kind of adventure, and not everyone enjoys new kinds of challenges.
6. HOW DO YOU FIND THE PERFECT SEASONAL CAMPGROUND?
Do you think you'll go through with getting a seasonal campsite this year?
Find out how to choose the ideal location in this article.
Try to find a place that you can see yourself living in indefinitely.
As a camper, you know that most places to stay are adequate for one or two nights, but you probably only have a small number of favorite campgrounds.
Think about things like proximity to attractions, conveniences, and camping options.
Do you want to spend the next seven months here?
First, you need to do some serious digging.
Do some homework to find the best campground for your needs before making a final decision.
Find out if this is the right sport for you by asking yourself the following questions.
When they stay for an entire season, do other campers enjoy it? Do your best to network with other full-timers!
Will you be in the midst of other campers staying for the night or the season?
Specifically, do you accept Amazon packages?
Is there a place away from the RV to keep things?
These are merely illustrative of the sorts of inquiries you might make.
Create some new questions.
If you want to get the most out of your seasonal camping experience, it's important to think about everything that can improve it, and to separate any long-term experiences you've had from any short-term stays you may have taken.
Remember to double-check your immediate environment
Seasonal camping means spending a lot of time in this region.
Get out there and see what attractions, dining options, retail establishments, and other conveniences are waiting for you.
Like any real estate transaction, it's all about where you put your money.
You should conduct a few test weekends.
There is a significant time commitment involved in camping seasonally.
There's no point in camping somewhere once and deciding it's perfect for a week.
Rent a place for a couple of weeks to make sure it's a good fit.
This way, you can leave your RV parked and explore whether or not you prefer to leave your camp site intact while you're away.
Consider adding a camping weekend around a holiday to further your investigation into the alterations to the environment.
For some campers, this could make all the difference at a busy campground.
Summer can be challenging to enjoy if you aren't someone who enjoys crowded places and times.
The cost of camping for an entire season is bound to go up.
There's no denying that, but sometimes the experience is well worth the price.
Spending more than $2,000 annually on a campsite may be reasonable if camping is your primary hobby or recreational activity.
It is important to clarify what is and is not covered by your permit before committing to any financial commitments.
Some campgrounds, for instance, may assess extra fees for excessive electricity or water consumption.
Inquire further as to what time frame is covered.
It is possible to rent certain seasonal locations annually, seasonally, or for a set number of days.
You should also inquire as to whether the entire fee is due at once or if payments can be made on a monthly basis.
Last but not least, learn if you'll be charged a fee if you decide you no longer want to visit the park.
CONCLUDING REMARKS
Let me know what you think by answering the following question…
To what extent do you camp annually, and do you prefer modern amenities, or do you prefer more traditional camping?
Do you prefer to constantly explore new campgrounds, or do you like the idea of a camping community?
There is no correct response; only individual tastes differ.
Find a Seasonal Campsite at Warrensburg Travel Park near Lake George Now!