Campground Lake George New York – Want to experience Lake George, NY?
The Adirondacks are a mountain range located in central New York State. They are part of the Appalachian Mountain Range and are bordered by the Hudson River to the west and Lake Champlain to the east. The highest peak in the Adirondacks is Mount Marcy, at 6,288 feet above sea level.
The Lake George region is home to many wonderful things, including the Lake George Steamboat Company, which operates daily excursions throughout the year. You can take a trip aboard the historic steamships, the Lady Washington and Senator Clinton, and see the sights of Lake George and the surrounding mountains.
The Adirondacks are home to over 100 lakes, and Lake George is one of the largest. It's located in the center of the park, surrounded by mountains, and is known for its crystal-clear waters and stunning scenery.
Travel to and experience a great campground near Lake George, NY.
Campground Lake George New York – When you are ready to experience Lake George NY from the comfort of our beautiful campground, call us today at 518-605-9247 or contact Warrensburg Travel Park online to check rates and availability, make a reservation, or request more information on our conveniently located campground only minutes from Lake George NY.
.
Making Memories Campgrounds in Lake George, New York
Making Memories Campgrounds is a campground located in Lake George, New York. It is a popular vacation destination known for its beautiful natural surroundings and recreational activities, including camping, fishing, boating, and hiking. The campground offers a variety of accommodations, including tent and RV sites, cabins, and cottages, making it a great option for families, couples, and solo travelers alike.
Campgrounds in Lake George, New York Offer a Different Experience in Camping
Yes, campgrounds in Lake George, New York offer a unique camping experience. The area is known for its beautiful natural surroundings and recreational opportunities, making it a popular destination for campers. Lake George is surrounded by mountains and forests, offering a variety of outdoor activities, such as hiking, fishing, boating, and more. The campgrounds in the area provide easy access to these activities, while also offering on-site amenities like swimming pools, playgrounds, and group events. The area also offers a rich cultural and historical heritage, with several nearby attractions, such as Fort Ticonderoga, offering a glimpse into the region's past. All of these elements combined create a one-of-a-kind camping experience in Lake George, New York.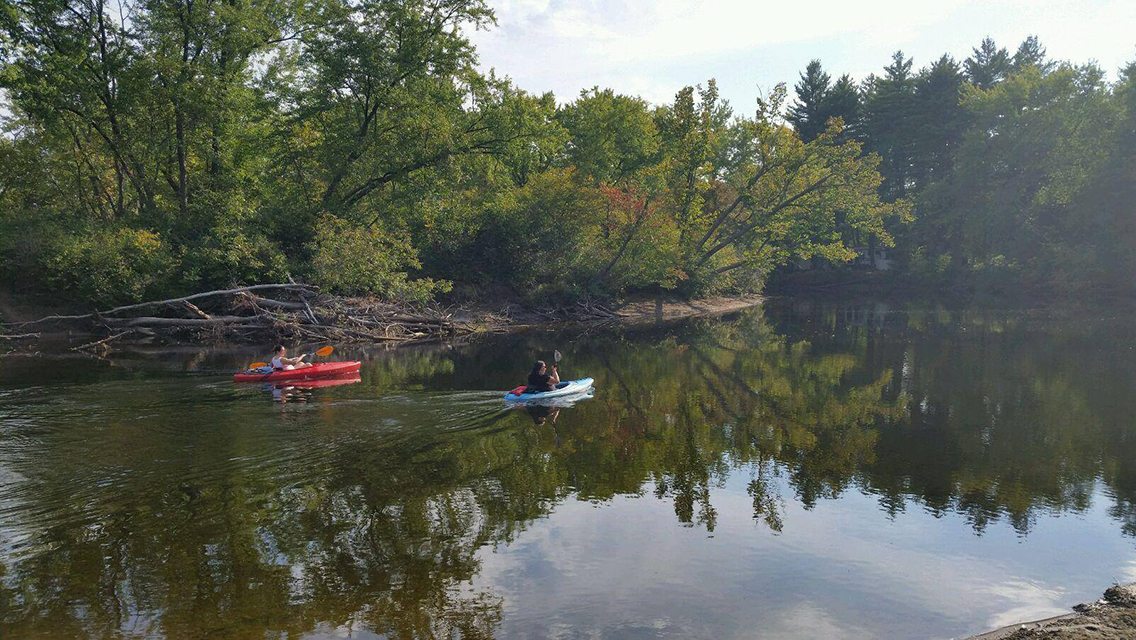 5 Things That Make Campgrounds in Lake George New York Unique?
Campgrounds in Lake George, New York are unique due to several factors, including:
Natural Beauty: Lake George is surrounded by stunning natural scenery, including forests, mountains, and the lake itself, making it an ideal destination for outdoor enthusiasts.
Recreational Activities: Lake George offers a variety of outdoor recreational activities, including boating, fishing, hiking, and more, all of which are easily accessible from the campgrounds in the area.
Cultural and Historical Significance: Lake George is rich in cultural and historical heritage, with several nearby attractions, such as Fort Ticonderoga, offering a glimpse into the region's past.
On-site Amenities: Many campgrounds in Lake George offer a range of on-site amenities, such as swimming pools, playgrounds, and group events, which add to the overall camping experience.
Sense of Community: Campgrounds in Lake George provide a sense of community, as campers can meet and socialize with other travelers from all over the world.
All of these factors make campgrounds in Lake George, New York a unique and enjoyable destination for camping.
4 Differences in Using a Camper or Text While at a Campground in Lake George, New York
There are several differences between using a camper or a tent while camping at a campground in Lake George, New York:
Comfort: Campers typically offer more comfort and amenities than tents, such as a bed, kitchen, bathroom, and air conditioning. Tents are more basic, with campers needing to bring their own sleeping gear and often relying on public restrooms and showers.
Convenience: Campers offer greater convenience, as all necessary equipment is already on board. Tents require campers to bring and set up their own gear, such as a tent, sleeping bag, and camp stove.
Cost: Campers can be more expensive than tents, as they require a larger initial investment and higher maintenance costs. Tents are typically more affordable, but campers need to budget for additional gear.
Mobility: Campers are typically less mobile than tents, as they require a vehicle to transport them from one location to another. Tents are more portable, making it easier to explore different areas of the campground and beyond.
Ultimately, the decision between using a camper or a tent while camping at a campground in Lake George, New York, comes down to personal preferences and budget. Both options have their own unique benefits and drawbacks, and the best choice will depend on individual needs and circumstances.
Campground Lake George, NY Amenities
Why Choose a Campground Lake George, New York that Has Electricity, Cable TV and WIFI?
Choosing a campground in Lake George, New York that offers amenities such as electricity, cable TV, and Wi-Fi can be a great option for several reasons:
Comfort: Having access to electricity at your campsite means you can power up your devices and appliances, such as phones, tablets, laptops, and portable fans. This can make your camping experience more comfortable and convenient.
Entertainment: Cable TV can be a source of entertainment during downtime or rainy days, providing access to news, movies, and other TV shows. This can be particularly helpful if you have kids or if you want to keep up with current events.
Connectivity: Wi-Fi can keep you connected to the internet, allowing you to stay in touch with friends and family, check emails, and access online resources. It can also be helpful for planning activities and exploring the local area.
Flexibility: Even if you prefer a more rustic camping experience, having access to these amenities can provide flexibility and peace of mind. For example, you can charge your phone or power up a portable heater if the weather turns chilly.
Accessibility: Some people may have health conditions or disabilities that require access to electricity, cable TV, or Wi-Fi. Having these amenities available can make camping more accessible and enjoyable for everyone.
Overall, choosing a campground in Lake George, New York that offers these amenities can enhance your camping experience, making it more comfortable, convenient, and enjoyable.
Warrensburg Travel Park & Riverfront Campground Lake George New York Offer These Amenities
Riverfront – swimming, tubing, fishing, kayaking, and canoeing
Sandy Beach
Heated Inground Swimming Pool
100 Acres approximately – Treed and wooded
174 Beautiful campground sites
20amp Electric, water, sewer/pump out, cable TV, Wifi, (84000) mbps, firepit & picnic table – All included
DJ at the pool – select days
14 Live bands
Playground
Clean restrooms and hot showers
Friendly staff
Mini golf
Bingo on select days
End of year seasonal appreciation party
2 campground wide BBQ on select days
Fun activities on select days
Pet friendly
Campground store – firewood, ice, candy, snacks & beverages
Arcade
Basketball
Small boat launch 14? or less
Volleyball
Caricature artist on select days
Elvis on select days
Karaoke on select days
Horse & pony rides on select days
Water slide on select days
Ice cream truck on select days
Food truck on select days
Themed weekends
5 bedroom 2200 sq foot upstairs apartment for rent on premises
Campground Bonfires on select days
Jack Armstrong natural Trail
Kayak & tube rentals
Friends & family visit most the time for free. $10 overnight
Seasonal winter storage included – off season
Pinata on select days
Tractor rides on select days
Golf carts allowed for seasonal campers – gas free, electric $100 per year for charging batteries. Must be insured to our specifications
Nearby churches & restaurants
Nearby health complex
Nearby hospitals, post office, supermarket, hardware store and boat launch
Minutes from Six Flags Great Escape/hurricane Harbor Water Park Lake George
Fireworks nearby on select days
Hiking nearby – Hackensack Mountain is right next door
Lake George Village & Million Doller Beach nearby
Worlds Largest Garage Sale nearby held in September
Adirondack Nationals Hot Rod Show
Warrensburg Bike Rally
Americade is minutes away
Lake George Steamboat Cruises nearby
Adirondack Extreme Adventure Course nearby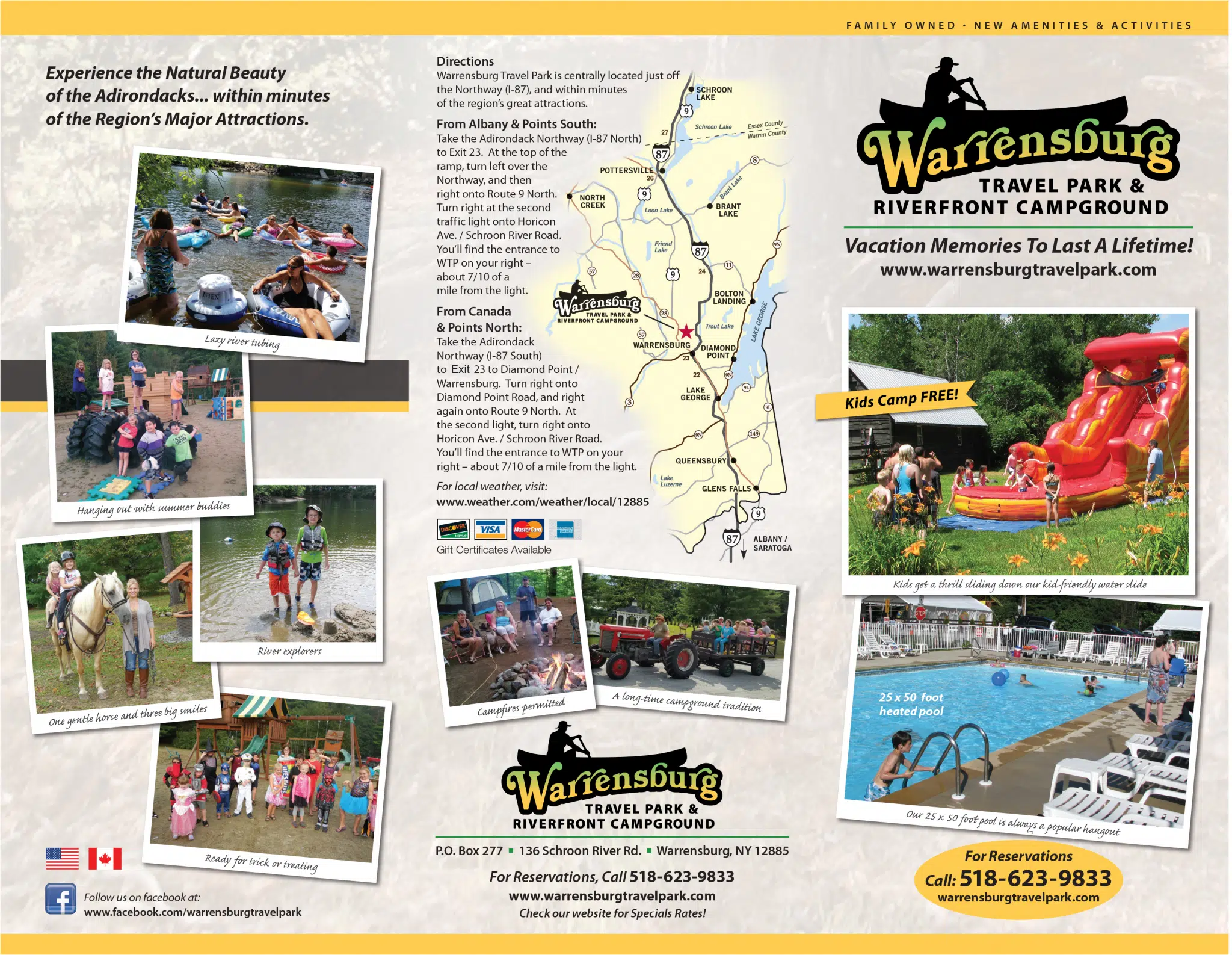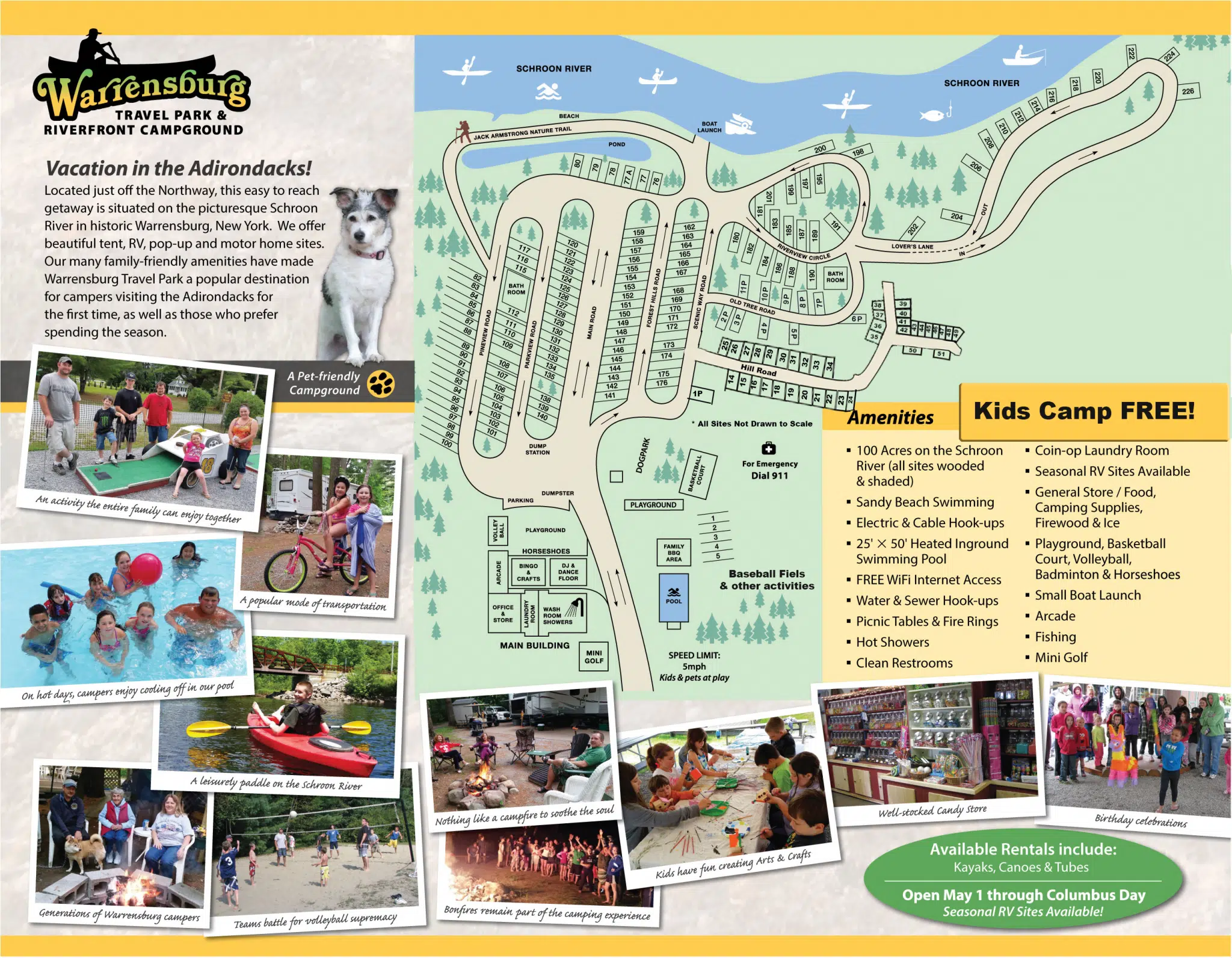 Other Stuff Around Lake George, NY
Dining in Lake George, NY
THE LOG JAM RESTAURANT
1484 State Rte. 9, Lake George, NY 12845 | 518-798-1155

The Log Jam Restaurant is located in the heart of the Adirondack Park on Route 9N in Lake George, NY. It is nestled in the woods overlooking Lake George and offers guests a rustic yet elegant dining experience. The restaurant features a variety of dishes prepared using locally sourced ingredients. Guests can enjoy a casual atmosphere while enjoying the views of the lake and surrounding forest.
The Log Jam Restaurant is located on Route 9N in Lake George, NY. It is open 365 days a year for breakfast, lunch and dinner. The restaurant features a rustic atmosphere, with a large fireplace, wooden flooring, and a variety of seating options. The menu includes traditional dishes like burgers, sandwiches, salads, pasta, and steaks.

ADIRONDACK PUB & BREWERY
33 Canada St. Lake George, NY 12845 | 518-668-0002
BOATHOUSE RESTAURANT
3210 Lake Shore Dr. Lake George, NY 12845 | 518-668-2389
CHRISTIE'S ON THE LAKE
6 Christie's Lane Lake George, NY 12845 | 518-668-2515
DAVIDSON BROTHERS
184 Glen St. Glens Falls, NY 12801 | 518-743-9026
JOHNNY ROCKETS
89 Six Flags Drive, Queensbury, New York 12804 | 518-824-6060
PABLO'S BURRITO CANTINA
75 Canada St, Lake George, NY | 518-685-5444
PIZZA JERKS
59 Iroquois Street, Lake George, NY 12845 | 518-668-4411
JACK BARRY'S AMERICAN PUB
192 Canada St, Lake George, NY 12845 | 518-668-5111
ADIRONDACK BAR & GRILL
982 State Route 149, Queensbury, NY 12804 | 518-793-2325
THE DOCKSIDER
298 Glen Lake Road Lake George, NY 12845 | 518-792-3534
Services for Lake George, NY
FIVE STAR GOLF CARTS
1003 State Route 9, Queensbury, NY 12804 | 518-409-8319

How long (a day, a week, a few months) will you be renting a golf cart(s)? We provide a selection of carts that can assist you complete your golf cart rental demands, and for a fair price. Utility vehicles and golf carts that run on electricity are among the products we sell. Cars that can seat seven or more people, have a trunk, or both, may be rented.
ADIRONDACK URGENT CARE
959 Route 9, Queensbury, NY 12804 | 518-223-0155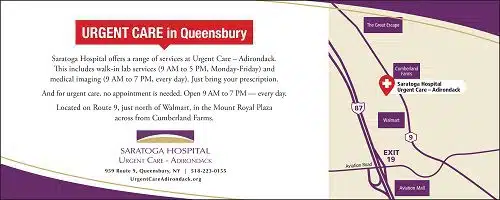 When you need immediate medical care, go no farther than Adirondack Urgent Care. When it comes to treating minor injuries and illnesses, you can count on our friendly, cutting-edge facilities. Don't hesitate to contact us at. or come to our clinic in Queensbury, New York now.
SNUG HARBOR SOUTH
7968 Lake Shore Dr Silver Bay, NY 12874 | 518-543-8866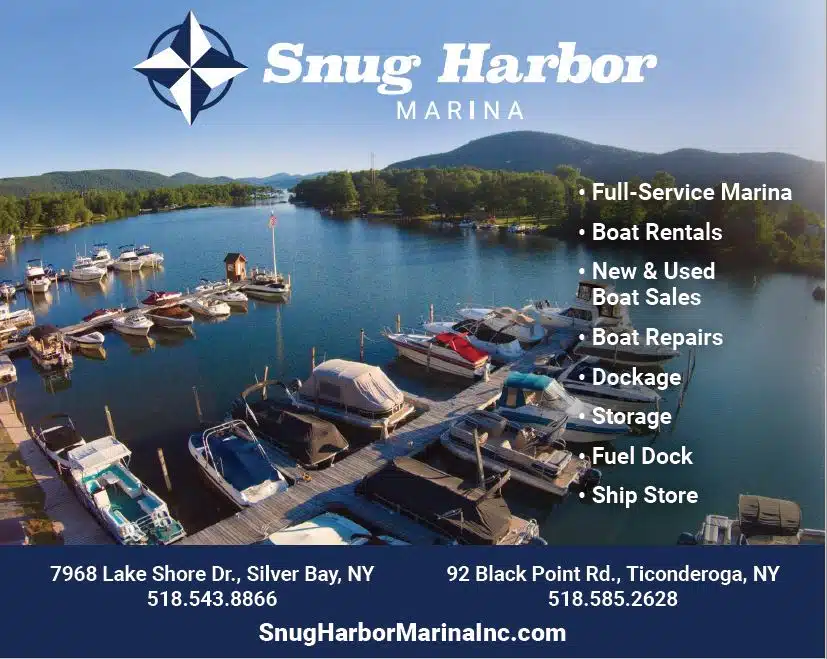 Our boat rental dock is located in South Snug Harbor. With 90 boats available, it has one of the biggest fleets of any lakeside rental service. Bow riders, sport decks, and pontoon boats are available for hire. We rent for a minimum of two hours and up to four days at a time. There is seating for up to 12 passengers on our boats. Our rentals include free use of a single-person inner tube and water skis. For a low price, you may rent knee boards, wake boards, and double tubes from us. At our sites we provide a petrol dock and small ship shop with snacks, soda, camping and marine goods.
W&B GOLF CART RENTALS
13 Skeet Drive Chestertown, NY 12817 | 518-494-8222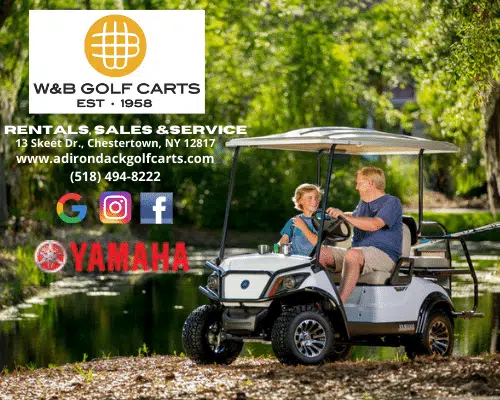 Since 1958, the W&B Golf Carts, Inc. family has owned and operated the business, making it one of the country's first golf cart distributors and dealers. We serve as the state-wide Yamaha distributor for Vermont, Berkshire County in Massachusetts, and all of eastern New York. With a focus on retail sales, rentals, and the recent addition of Yamaha Power Products, our new Adirondack site in Chestertown, New York, will further assist our growth in the area in all areas of our business.
ADIRONDACK REGIONAL CHAMBER OF COMMERCE
136 Glen St #3 Glens Falls, NY 12801 | 518-798-1761
BOLTON LANDING CHAMBER OF COMMERCE
4928 Lake Shore Dr Bolton Landing, NY 12814 | 518-644-3831
LAKE GEORGE REGIONAL CHAMBER OF COMMERCE
P.O. Box 272, Lake George, NY 12845 | 518-668–5755
BAY ROAD PRESBYTERIAN CHURCH
1167 Bay Rd Lake George, NY 12845 | 518-793-8541
CALDWELL PRESBYTERIAN CHURCH
71 Montcalm St Lake George, NY 12845 | 518-668-2613
CHURCH OF OUR LADY OF THE ANNUNCIATION
448 Aviation Rd Queensbury, NY 12804 | 518-793-9677
HARRISENA COMMUNITY CHURCH
1616 Ridge Road • Queensbury, NY 12804 | 518-792-2965
ST. JAMES EPISCOPAL CHURCH
172 Ottawa St, Lake George, NY 12845 | 518-668-2001
SACRED HEART ROMAN CATHOLIC CHURCH
51 Mohican St, Lake George, NY 12845 | 518-668-2046
UNITED METHODIST CHURCH OF QUEENSBURY
460 Aviation Rd, Queensbury, NY 12804 | 518-793-9728
CONVENIENT MEDICAL CARE
319 Bay Rd Queensbury, NY 12804 | 518-792-2181
GLENS FALLS HOSPITAL
518-926-1000 | 100 Park St, Glens Falls, NY 12801
Watch the video to see the top 15 amazing things to do while camping near Lake George, NY
Attractions in Lake George, NY
Campground Lake George New York – Warrensburg Travel Park & Riverfront Campground
136 Schroon River Road or (PO Box 277 for mail)
Warrensburg, NY 12885
Call Karl – 518-605-9247
To make a reservation, click here
What are the top attractions to visit in Lake George?
The top attractions to visit in Lake George are: Lake George Prospect Mountain Fort William Henry Museum Shelving Rock Falls Adirondack Winery
What are the most popular things to do in Lake George with kids?
The most popular things to do in Lake George with kids according to Tripadvisor travelers are: Lake George Prospect Mountain Lake George Island Boat Tours Bolton Boat Tours and Water Sports on Lake George Lake George Steamboat Co.
These are important items for your camping essentials checklist:
Tent (and footprint, stakes) Sleeping bags. Sleeping pads. Camping pillow. Headlamps or flashlights (and extra batteries) Camp chairs. Camp table (if no picnic table) Lantern (and mantles and fuel/batteries if needed)
Should I camp in the Adirondacks?
Whether you prefer glamping or primitive camping, the Adirondacks is the perfect place to pitch your tent. Before you head out on your camping trip, make sure you're adequately prepared for the conditions in your chosen environment. New York State maintains as lots of campgrounds throughout the Adirondack area including Warrensburg Travel Park.
Campground Lake George New York – Go Camping With Your Pets In Lake George NY
Having difficulties deciding how to spend time with your dog while camping in Lake George? Sure, bring them along. You can bring the whole family on a camping trip to Lake George because we are a pet friendly campground.
Camping with Pets: Answers to 11 Common Questions
1. Must I provide immunization records to enter?
The majority of campsites will only allow pets with evidence of immunization, so it's a good idea to have your dog checked out by the vet before you go out on a camping trip to make sure they're in excellent health and protected against ticks.
2. Are there any restrictions on the types of pets (or breeds) that may be kept?
The phrase "pet" and "dog" are used interchangeably since, in most circumstances, when people speak about taking a pet camping, they are talking about a dog. Campgrounds may have rules against bringing in certain types of animals; for example, some may not allow any exotic pets or livestock. Many pet-friendly hotels have size and breed limits, and so do some campsites.
3. How many dogs are permitted in your apartment?
Campgrounds typically only accept one or two dogs per family, and guests aren't allowed to bring their own.
4. Do you charge more for pets?
There is a pet fee at certain campsites. You could look into campsites that allow pets to learn more about their individual regulations and costs.
5. Is there a specific area of the campsite that is off-limits to pets?
Almost without exception, camping facilities have rules against bringing dogs to public spaces like the pool, the bathrooms, the beach, etc.
6. Must I have constant contact with my pet?
In most cases, it is correct. Not all campsites allow you to leave your dog alone at the campsite, even if you're staying in a cabin or RV.
7. To what extent are leash regulations enforced?
It's common for campsites to require a leash no longer than 4 to 6 feet long, and some may even ban retractable leashes altogether. In most cases, the dog must be on a leash at all times outside of a designated area. Lake George Escape is one such campsite that provides a dog park or other space for canine recreation.
8. If my dog is barking, what should I do?
Almost everyone recognizes the need of a canine's vocalizations and accepts this as normal. Some campsites may politely urge you to find other accommodations if your dog barks excessively or continuously throughout the night.
9. I'm leaving tomorrow morning; what do I need to bring with me?
You should bring the following items for your dog: food, water, treats, any necessary medications, a stake or tether, a pet first-aid kit, a leash, a recent picture of the dog (or have it on your phone), an ID tag that can be attached to the dog's collar, the dog's medical records, a dog brush, dog waste bags, the dog's bed (if they have one), an umbrella, and booties or paw protection.
10. Where should I put my pet at night?
Bring your dog's bed from home if he or she is used to sleeping on one. Dogs sleeping in tents is difficult than an RV or a cottage, but it can be done if the tent is big enough. Before turning in for the night, make sure to zip up the tent.
11. What can I do with my pet?
Though canines like the great outdoors (and the vehicle ride to the campground), you shouldn't count on it to keep them entertained. Pack a lot of treats and arrange activities like walks in the woods, trips on the water, and visits to dog-friendly parks.
Before leaving, find out whether pets are allowed at your location, make sure you have everything you need for the vacation, and have fun spending quality time in the great outdoors with your loved ones.
Advice for a Successful Camping Trip in the Lake George Area
Prior To Arriving At The Campsite
There are several things that may be done to prepare for a camping trip prior to departure. Here are a few introductory tips:
Prepared foods – Boil spaghetti beforehand, chop chicken into little pieces, or even create pancake batter and keep it in a big plastic bag so you have less to clean up when camping.
Purchase a BPA-free water bottle.
Find an insect repellent that the entire family enjoys, and pick up some citronella candles while you're at it.
Inflate your mattresses and let them sit overnight to see whether any have lost air – you'd rather discover this at home than when you wake up on the cold, hard ground in the middle of the night.
Freeze water bottles to use as ice packs (and you may drink the water once they thaw) (and you can drink the water after they melt)
Observe Rules Regarding Firewood & Trees
By carrying firewood, you run the risk of spreading exotic diseases and insects, such as the emerald ash borer, which may swiftly destroy significant numbers of trees. Do not carry firewood to parks or campsites. Ask for a receipt or sticker that indicates the firewood's local source when purchasing it from a campground or local seller.
Cutting down living trees is forbidden. The state's lands should be preserved permanently as wild forest lands, which bans the destruction, removal, or sale of wood on such areas. No one may remove or harm trees, plants, flowers, or rocks located on state property. There may be penalties linked with the felling of trees of up to $250 per tree.
Establishing Camp
Before you pitch your tent, look for these perfect campground characteristics:
flat, level terrain
dry and a little raised
Free of poison ivy, anthills, and beehives, as well as other dangerous fauna
If storms are a possibility, search for a place with trees and vegetation higher than your tent to give rain and wind cover and to discourage lightning.
If it is a windy day and the wind keeps blowing over your plastic cup, use duct tape to tie it to a rock
Getting Organized
A transparent hanging shoe rack is an excellent tool for staying organized in the woods. It may accommodate non-food items such as plastic cutlery, cleaning supplies, bags, scissors, sunscreen, toiletries, flashlights, sunglasses, and a first aid kit. Simply hang it from a nearby tree and instruct your children in that direction when they inquire where something is.
You should also clean your campground, particularly if there is an outhouse on the property. Use a cleaning spray on the inside and a broom to remove spider webs. This may help the wilderness seem friendlier.
Being Safe
Follow these easy guidelines to ensure the safety of your whole family on your next camping trip:
Wear life jackets while boating and require youngsters to wear them when going near the water's edge at a campground.
Even younger children should wear bicycle helmets when playing in case they fall into rocks.
Bring a first aid bag with basic supplies, medicines, and any necessary prescriptions.
Do not drink the lake water; instead, drink filtered water to remain hydrated.
Never leave an unattended campfire burning
Making Memories
Camping on Lake George is all about spending time with your family and creating memories that will last a lifetime. Give your children a disposable camera and see the photographs they take.
Take as many photographs as possible so you can recall the enjoyable time you had. Children's faces will be enchanted by the enchanted light at dusk, making it an ideal moment for photographs.
Camping is a terrific opportunity to unwind, relax, and appreciate nature. However, there are occasions when this is not enough to keep you amused. Cards, charades, and board games may make for a night of outdoor taunting, laughter, and enjoyment.
Additionally, campfire tales are a fun way to liven up a quiet evening; for variety, have each camper take a turn reciting one line of the narrative. Swimming, fishing, and hiking are excellent daytime activities for maximizing your camping experience.
Food Storage Do not expose food overnight or for extended periods of time. Wild creatures smelling your leftovers represent a significant danger to your safety and food supplies. Seal food tightly in plastic containers or bags and store them in a designated bag. This bag should never be taken within the tent; instead, it should be hung from a high tree branch overnight to prevent wild animals from gaining access.
Plan Your Campground Camping Experience in Lake George
To plan your camping experience in Lake George, you may consider the following steps:
Research campgrounds: Look into various campgrounds in Lake George to determine which one best fits your needs (e.g. amenities, location, activities, etc.).
Book a campsite: Book your campsite in advance to ensure you get the site you want.
Prepare your gear: Make sure you have all the gear you need for camping (e.g. tent, sleeping bag, camping chairs, etc.).
Plan activities: Lake George offers many recreational activities such as boating, hiking, fishing, and more. Decide which activities you want to do during your stay.
Pack food and supplies: Make a list of the food and supplies you will need for your trip and pack accordingly.
Check weather: Check the weather forecast for Lake George and pack clothing and gear appropriate for the conditions.
Follow camping rules and regulations: Familiarize yourself with the campground's rules and regulations and follow them during your stay.
By following these steps, you can ensure a memorable and enjoyable camping experience in Lake George.