Want to experience Lake George NY?
If you are enjoying your Adirondack camping experience at Warrensburg Travel Park, you may like to get out and about in scenic Lake George NY. Well, our super-close proximity to Lake George – a quick and free trolley ride during the summer, makes all of the attractions, events, shopping, and dining in this vacation destination easy to experience!
Every family member will enjoy swimming at one of the several public beaches with breathtaking views of the Adirondack Mountains. Attractions in Lake George include family-friendly cruises around Lake George, along with evening jazz and dinner cruises for adults looking for a night out on the town!
Enjoy the great outdoors, hiking the Adirondack Mountains, and enjoying an experience like no other. With amazing views of Lake George from some of the summits, the High Peaks region of upstate NY is worth discovering! There are easy hikes for children and families, or you can challenge yourself on some of the more difficult trails.
Our region is rich in history and the arts. Enjoy many area museums, from the world-class Hyde Museum in nearby Glens Falls to the popular House of Frankenstein Wax Museum in Lake George which is not for the faint of heart! Nearby scenic horseback rides through forests and hills surrounding the lake are available – ask us for recommendations!
What vacation at the lake would be complete without some sort of amusement or waterpark? Six Flags Great Escape & Splash Water Kingdom offers a full day of rides and games, while Water Slide World Lake George affords cool and refreshing family fun! Lake George shopping includes several outlet malls offering name-brand clothing and products, and nearby Queensbury NY has more well-known supercenters.
After a perfect Lake George, Adirondack day, enjoy the many diverse area restaurants that are sure to please every palate….discover some of the most decadent and beautiful lakeside dining as you watch the magnificent lights of steamboats pass by.
Travel to and experience a great Campground near Lake George, NY
When you are ready to experience Lake George NY from the comfort of our beautiful campground, call us today at 518-605-9247 or contact Warrensburg Travel Park online to check rates and availability, make a reservation, or request more information on our conveniently located campground only minutes from Lake George NY.
Campground Lake George, NY Amenities
Warrensburg Travel Park & Riverfront Campground Welcomes You!
Riverfront – swimming, tubing, fishing, kayaking, and canoeing
Sandy Beach
Heated Inground Swimming Pool
100 Acres approximately – Treed and wooded
174 Beautiful campground sites
20amp Electric, water, sewer/pump out, cable TV, Wifi, (84000) mbps, firepit & picnic table – All included
DJ at the pool – select days
14 Live bands
Playground
Clean restrooms and hot showers
Friendly staff
Dog park
Mini golf
Bingo on select days
End of year seasonal appreciation party
2 campground wide BBQ on select days
Fun activities on select days
Pet friendly
Campground store – firewood, ice, candy, snacks & beverages
Arcade
Basketball
Small boat launch 14? or less
Volleyball
Caricature artist on select days
Elvis on select days
Karaoke on select days
Horse & pony rides on select days
Water slide on select days
Ice cream truck on select days
Food truck on select days
Themed weekends
5 bedroom 2200 sq foot upstairs apartment for rent on premises
Campground Bonfires on select days
Jack Armstrong natural Trail
Kayak & tube rentals
Friends & family visit most the time for free. $10 overnight
Seasonal winter storage included – off season
Pinata on select days
Tractor rides on select days
Golf carts allowed for seasonal campers – gas free, electric $100 per year for charging batteries. Must be insured to our specifications
Nearby churches & restaurants
Nearby health complex
Nearby hospitals, post office, supermarket, hardware store and boat launch
Minutes from Six Flags Great Escape/hurricane Harbor Water Park Lake George
Fireworks nearby on select days
Hiking nearby – Hackensack Mountain is right next door
Lake George Village & Million Doller Beach nearby
Worlds Largest Garage Sale nearby held in September
Adirondack Nationals Hot Rod Show
Warrensburg Bike Rally
Americade is minutes away
Lake George Steamboat Cruises nearby
Adirondack Extreme Adventure Course nearby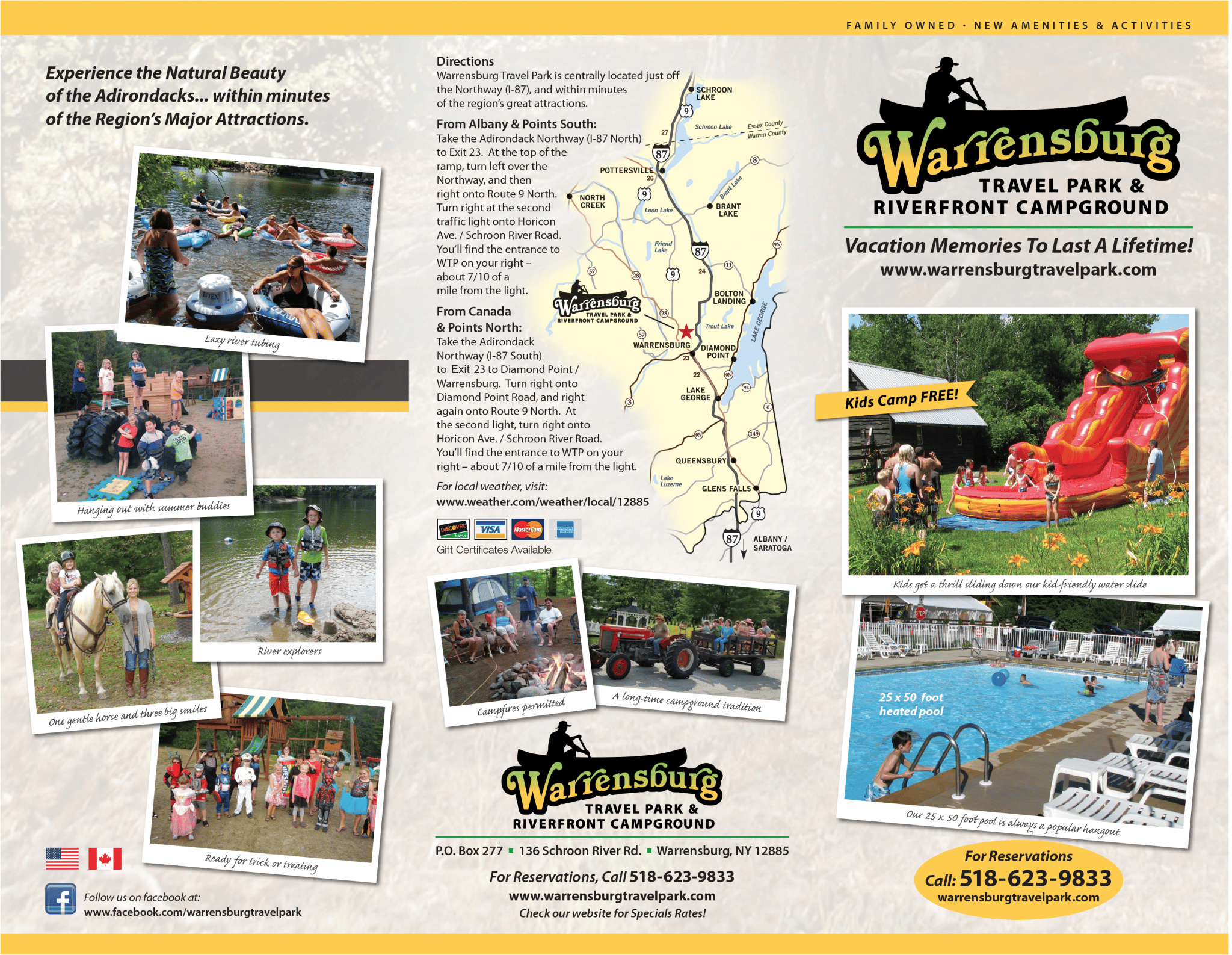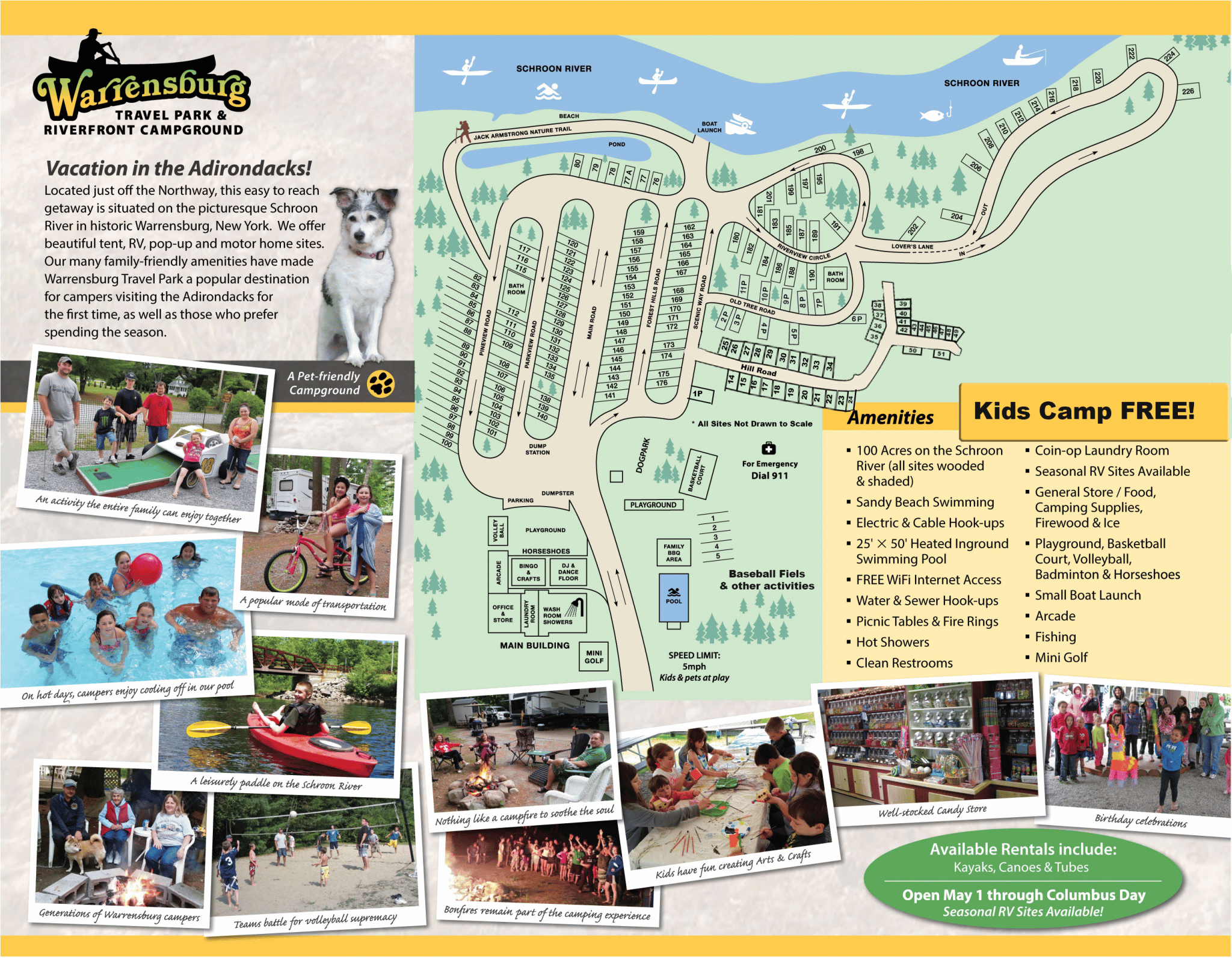 Other Stuff Around Lake George, NY
Dining in Lake George, NY
THE LOG JAM RESTAURANT
1484 State Rte. 9, Lake George, NY 12845 | 518-798-1155

Whether you're visiting the Lake George – Saratoga region – or you live here all the time – The Log Jam Restaurant takes pride both in the beauty of the Adirondacks and in providing you with superb food and accommodating hospitality in an authentic log cabin. If it weren't for the aromas of sizzling steaks, you just might think you walked into an Adirondack logging camp 100 years ago. An old pot-belly stove warmly greets you at the front door, wood plank floors stretch beneath your feet, pine logs cut from the mountains above Lake George surround you, and three massive stone fireplaces provide the perfect romantic setting. The Log Jam Restaurant is open daily, 363 days a year, for lunch and dinner. The mood is perfect for "Casual Adirondack Dining."
ADIRONDACK PUB & BREWERY
33 Canada St. Lake George, NY 12845 | 518-668-0002
BOATHOUSE RESTAURANT
3210 Lake Shore Dr. Lake George, NY 12845 | 518-668-2389
CHRISTIE'S ON THE LAKE
6 Christie's Lane Lake George, NY 12845 | 518-668-2515
DAVIDSON BROTHERS
184 Glen St. Glens Falls, NY 12801 | 518-743-9026
JOHNNY ROCKETS
89 Six Flags Drive, Queensbury, New York 12804 | 518-824-6060
PABLO'S BURRITO CANTINA
75 Canada St, Lake George, NY | 518-685-5444
PIZZA JERKS
59 Iroquois Street, Lake George, NY 12845 | 518-668-4411
JACK BARRY'S AMERICAN PUB
192 Canada St, Lake George, NY 12845 | 518-668-5111
ADIRONDACK BAR & GRILL
982 State Route 149, Queensbury, NY 12804 | 518-793-2325
THE DOCKSIDER
298 Glen Lake Road Lake George, NY 12845 | 518-792-3534
Services for Lake George, NY
FIVE STAR GOLF CARTS
1003 State Route 9, Queensbury, NY 12804 | 518-409-8319

Do you need a golf cart—or several—for a day, a week, or a few months? We offer a variety of carts that will help you fill your golf cart rental needs, and for a reasonable price. We carry electric golf carts and utility vehicles. Rentals with rear seats, cargo boxes and multi passenger options are available.
ADIRONDACK URGENT CARE
959 Route 9, Queensbury, NY 12804 | 518-223-0155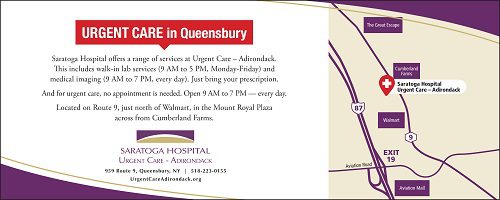 Adirondack Urgent Care is your local source for unscheduled professional medical treatment. Our welcoming, state-of-the-art facility is intended for treatment of minor medical illnesses and injuries.  Call today, or stop by our location in Queensbury, NY for treatment.
SNUG HARBOR SOUTH
7968 Lake Shore Dr Silver Bay, NY 12874 | 518-543-8866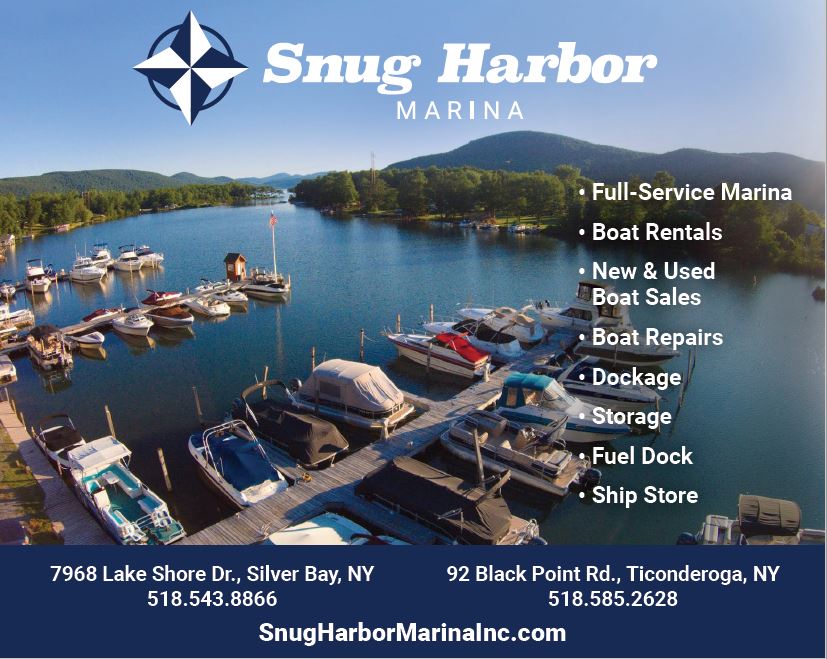 Snug Harbor South is our boat rental location. One of the largest boat rental fleets on the lake with 90 boat rentals. We rent bow riders, sport decks and pontoon boats. We have 2 and 4 hour rentals along with full day or multi-day. Our boats hold anywhere from 6 to 12 people. All our rentals come with a free single person tube and water skis. We rent knee boards, wake boards and double tubes for a small fee. At our locations we have a gas dock and small ship store with chips, soda, camping and marine supplies.
W&B GOLF CART RENTALS
13 Skeet Drive Chestertown, NY 12817 | 518-494-8222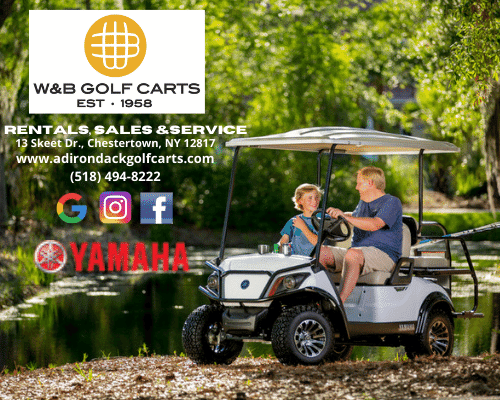 W&B Golf Carts, Inc. has been family owned and operated since 1958 and is one of the oldest golf car dealers/distributors in the USA. We are the official Yamaha Distributor for all of eastern New York as well as Berkshire County MA and the entire state of Vermont. Our new Adirondack location in Chestertown, NY will further support our growth in the region in all areas of our business with an emphasis on retail sales, rentals and the recent addition of Yamaha Power Products.
ADIRONDACK REGIONAL CHAMBER OF COMMERCE
136 Glen St #3 Glens Falls, NY 12801 | 518-798-1761
BOLTON LANDING CHAMBER OF COMMERCE
4928 Lake Shore Dr Bolton Landing, NY 12814 | 518-644-3831
LAKE GEORGE REGIONAL CHAMBER OF COMMERCE
P.O. Box 272, Lake George, NY 12845 | 518-668–5755
BAY ROAD PRESBYTERIAN CHURCH
1167 Bay Rd Lake George, NY 12845 | 518-793-8541
CALDWELL PRESBYTERIAN CHURCH
71 Montcalm St Lake George, NY 12845 | 518-668-2613
CHURCH OF OUR LADY OF THE ANNUNCIATION
448 Aviation Rd Queensbury, NY 12804 | 518-793-9677
HARRISENA COMMUNITY CHURCH
1616 Ridge Road • Queensbury, NY 12804 | 518-792-2965
ST. JAMES EPISCOPAL CHURCH
172 Ottawa St, Lake George, NY 12845 | 518-668-2001
SACRED HEART ROMAN CATHOLIC CHURCH
51 Mohican St, Lake George, NY 12845 | 518-668-2046
UNITED METHODIST CHURCH OF QUEENSBURY
460 Aviation Rd, Queensbury, NY 12804 | 518-793-9728
CONVENIENT MEDICAL CARE
319 Bay Rd Queensbury, NY 12804 | 518-792-2181
GLENS FALLS HOSPITAL
518-926-1000 | 100 Park St, Glens Falls, NY 12801
Watch the video to see the top 15 amazing things to do while camping near Lake George, NY
Attractions in Lake George, NY
Warrensburg Travel Park & Riverfront Campground
136 Schroon River Road or (PO Box 277 for mail)
Warrensburg, NY 12885
Call Karl – 518-605-9247
To make a reservation, click here
What are the top attractions to visit in Lake George?
The top attractions to visit in Lake George are: Lake George Prospect Mountain Fort William Henry Museum Shelving Rock Falls Adirondack Winery
What are the most popular things to do in Lake George with kids?
The most popular things to do in Lake George with kids according to Tripadvisor travelers are: Lake George Prospect Mountain Lake George Island Boat Tours Bolton Boat Tours and Water Sports on Lake George Lake George Steamboat Co.
These are important items for your camping essentials checklist:
Tent (and footprint, stakes) Sleeping bags. Sleeping pads. Camping pillow. Headlamps or flashlights (and extra batteries) Camp chairs. Camp table (if no picnic table) Lantern (and mantles and fuel/batteries if needed)
Should I camp in the Adirondacks?
Whether you prefer glamping or primitive camping, the Adirondacks is the perfect place to pitch your tent. Before you head out on your camping trip, make sure you're adequately prepared for the conditions in your chosen environment. New York State maintains as lots of campgrounds throughout the Adirondack area including Warrensburg Travel Park.