Seasonal Camping Sites in the Adirondacks Starting Prices begin at $3,995.  Includes most everything!
Sites will be prorated depending on when you start your seasonal camping.
Please call or text Karl today for available seasonal camping sites near Lake George and Six Flags Great Escape and prices, as they change daily, or
Seasonal Campground Spaces Available
If the idea of having a five-ton container of furniture and possessions three feet behind you while driving 65 miles per hour on the Northway doesn't appeal to you, we have the perfect bargain for you! Rent a seasonal campsite near Lake George and Six Flags at Warrensburg Travel Park. Enjoy Great Escape and leave your RV at your campsite for a whole year.
Home Away from Home
You may drive to your "home away from home" anytime you like, open the door, and be ready to rest for a very affordable fee. No setup and breakdown required for each trip! A camp in the Adirondacks that is very inexpensive and devoid of any expenditures.
Seasonal Adirondack Camping Areas. Every site in the campground has a distinct pricing since it is a unique piece of real estate, with waterfront sites being the most costly. Includes seasonal storage! Call for details! Spend the full season camping and leave your RV at your campsite during the off-season. Seasonal Adirondack Camping Areas near Lake George
Campground Events & Activities All Season
At our Adirondack seasonal camping sites, there is so much to do, including swimming in our heated inground pool, fishing on the beautiful Schroon River, swimming at the sandy beach area, mini-golf, basketball, volleyball, arts and crafts for the kids, a DJ and dancing on most Saturday nights, and an arcade. Seasonal Adirondack Camping Areas near Lake George
Camp Store
We will ensure that your stay is enjoyable! Also provided is a nice camping shop stocked with items for kids and adults alike. We have bulk candies, chocolates, popcorn, snow cones, cotton candy, milk, firewood, and ice. Why go elsewhere when we have everything you could possibly need? Adirondack Seasonal Camping Areas near Lake George Village
Warrensburg Travel Park is where you will create lifelong experiences! You will meet new people!
Best of all, we offer seasonal campers a discount and an easy payment plan! Sign up immediately to get a desirable website!
Seasonal Adirondack Camping Areas near Lake George
Costless winter storage (keep your trailer on your property during the winter)
Free crafts (see website for details) except Paint & Sip $25, T-shirt and supplies for tie dye $10, or $5 for supplies if you bring your own T-shirt.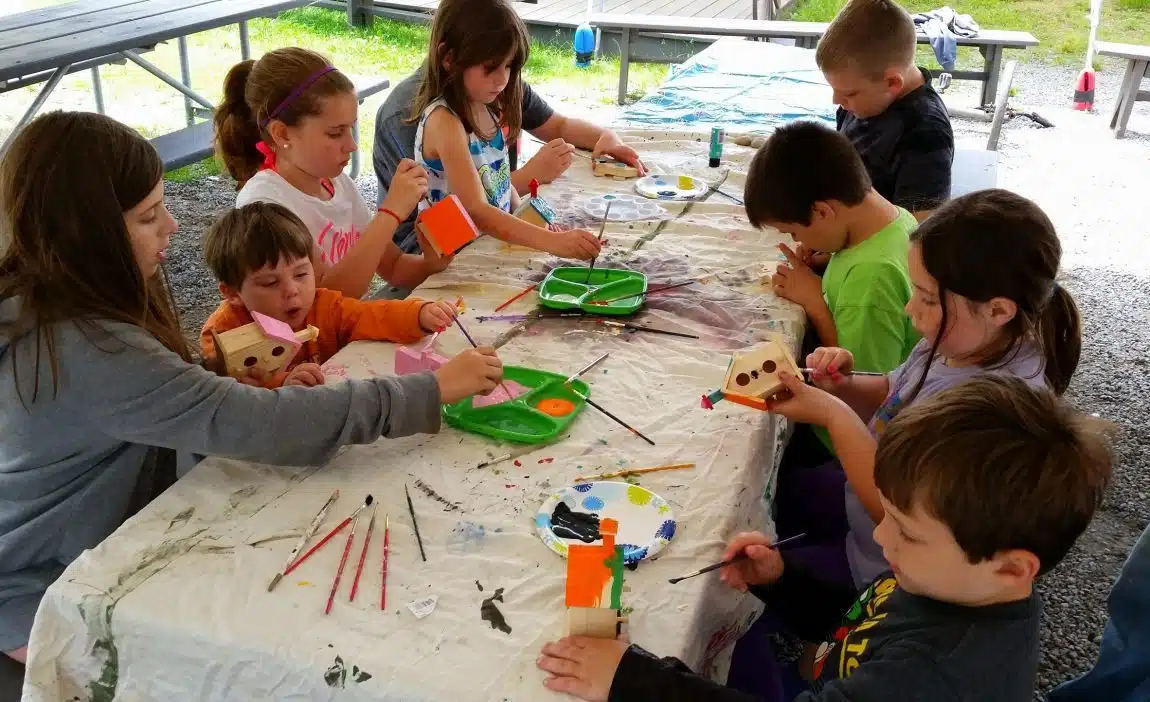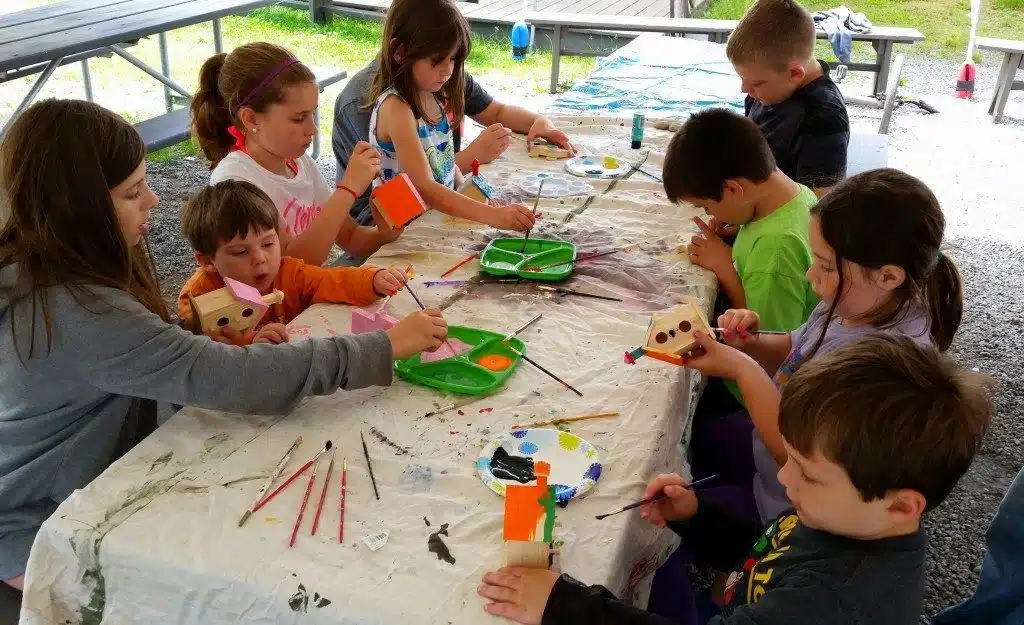 The pool has a free DJ.
Who else offers 14 free live bands?
Elvis impersonator for free
Free Karaoke
Free caricature drawings (11 Saturdays)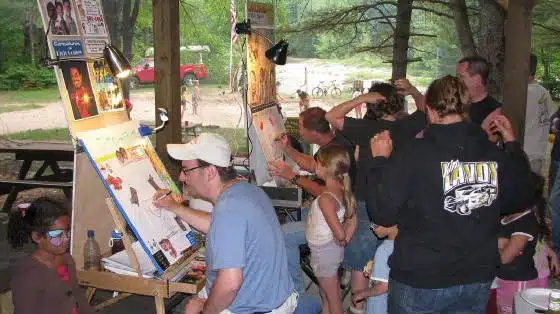 Free Activities
Free Rock Wall Climbing (11 Saturdays)
Free horse and pony rides (select Holiday Saturdays)
(11 Saturdays): free large water slide or bounce house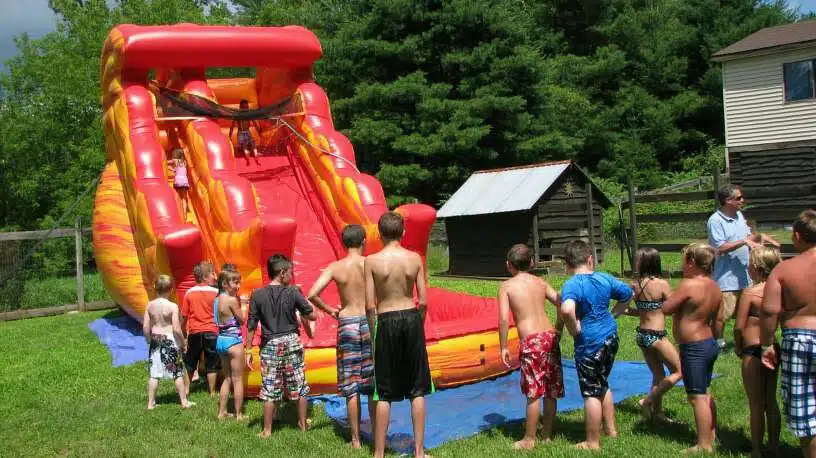 Free Electric except extra refrigerator is $100 small, $150 medium, $200 large or freezer for the season and electric golf cart ($200 season) or gas golf cart is free.  Excessive outdoor lighting charge also extra per owner discretion.
Free Town water

Free septic, sewer, or pump-out

Free WIFI

Free

Cable TV

Free use of the

picnic table

Free use of the

fire-ring

Free camping

day passes

for your friends and family
Free Friends and Family visiting overnight except for putting a tent on your camping site, anyone 18 or older must pay $10 per night. Or people 18 or older staying overnight in your camping trailer when you're not there must pay $10 per night. Kids 17 and younger are always free.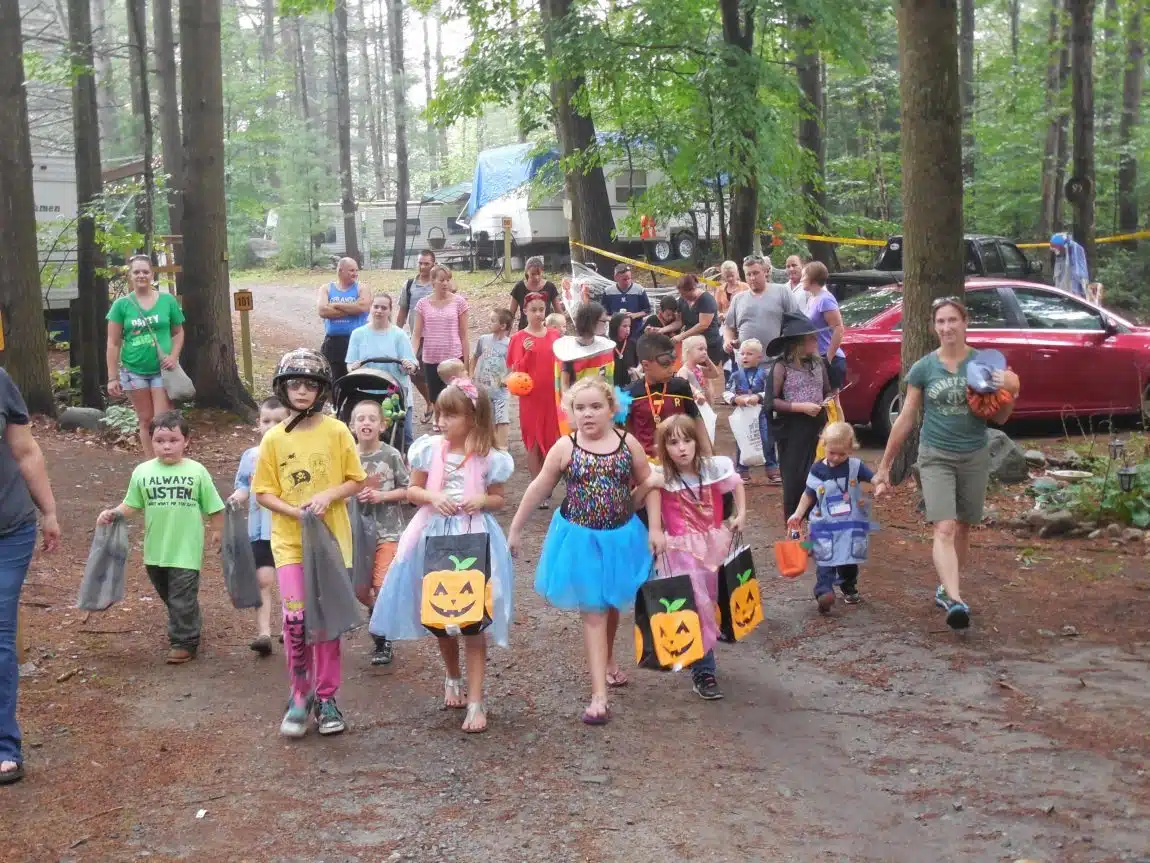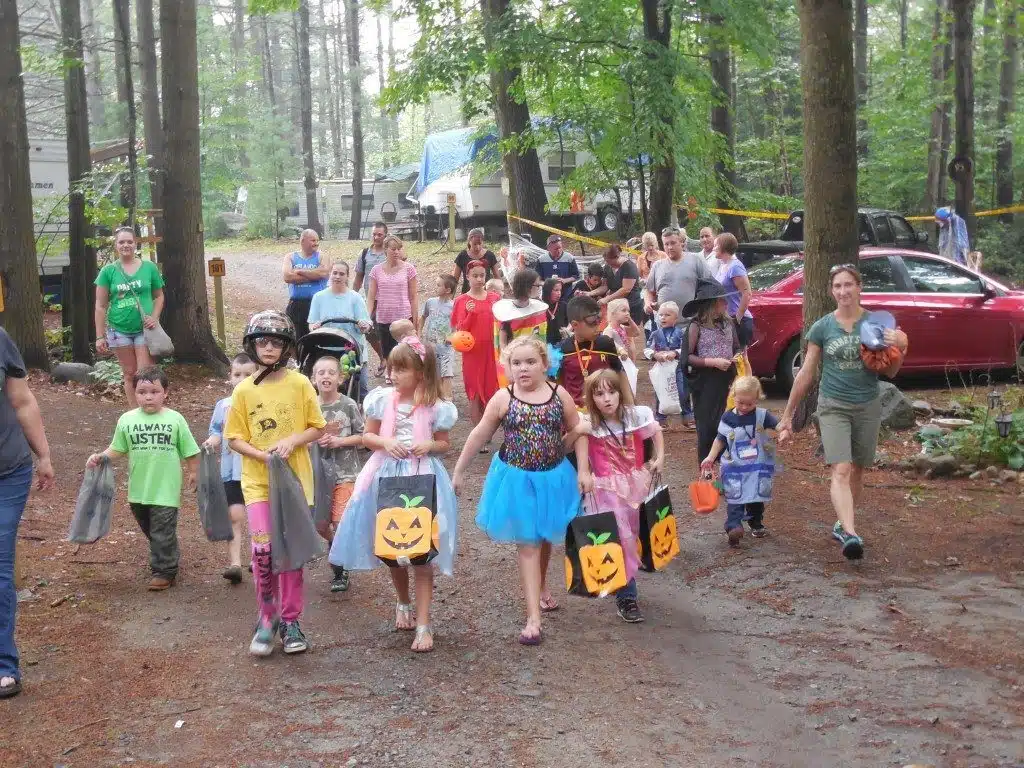 End of Season Bowling, Laser Tag, and Arcade Buffet Party (click here) Seasonal Family Customer Appreciation Campers Party at Season's End

Free Camping: Children

 17 and younger at all times

Hiking in certain mountains

Riverfront swimming, fishing, kayaking, canoeing, and tubing

Inground heated swimming pool

Mini-golf

Horseshoes, volleyball, and basketball

Playgrounds
2 catered campground Barbecues (burgers, hot dogs, barbecue chicken, potato salad, seafood salad, cole slaw, macaroni salad, fruit salad, macaroni and cheese, soft drinks, cake, and much more, 14 different Catered hot and cold dishes) and everyone brings a dish to share; it's a lot of fun and tastes sooooo good!  They are celebrated the Sunday of Memorial Day Weekend and the Sunday of Labor Day Weekend, 5 p.m.  Camping fun!
We have a lot to offer to make your stay with us one of the most enjoyable camping summers you will ever have.
Please

call

or

text

Karl today for available

seasonal sites

and prices, as they change daily.
Prices

start

at $3,995 and up, including almost everything.
Camping Fun!  Call or Text 518-605-9247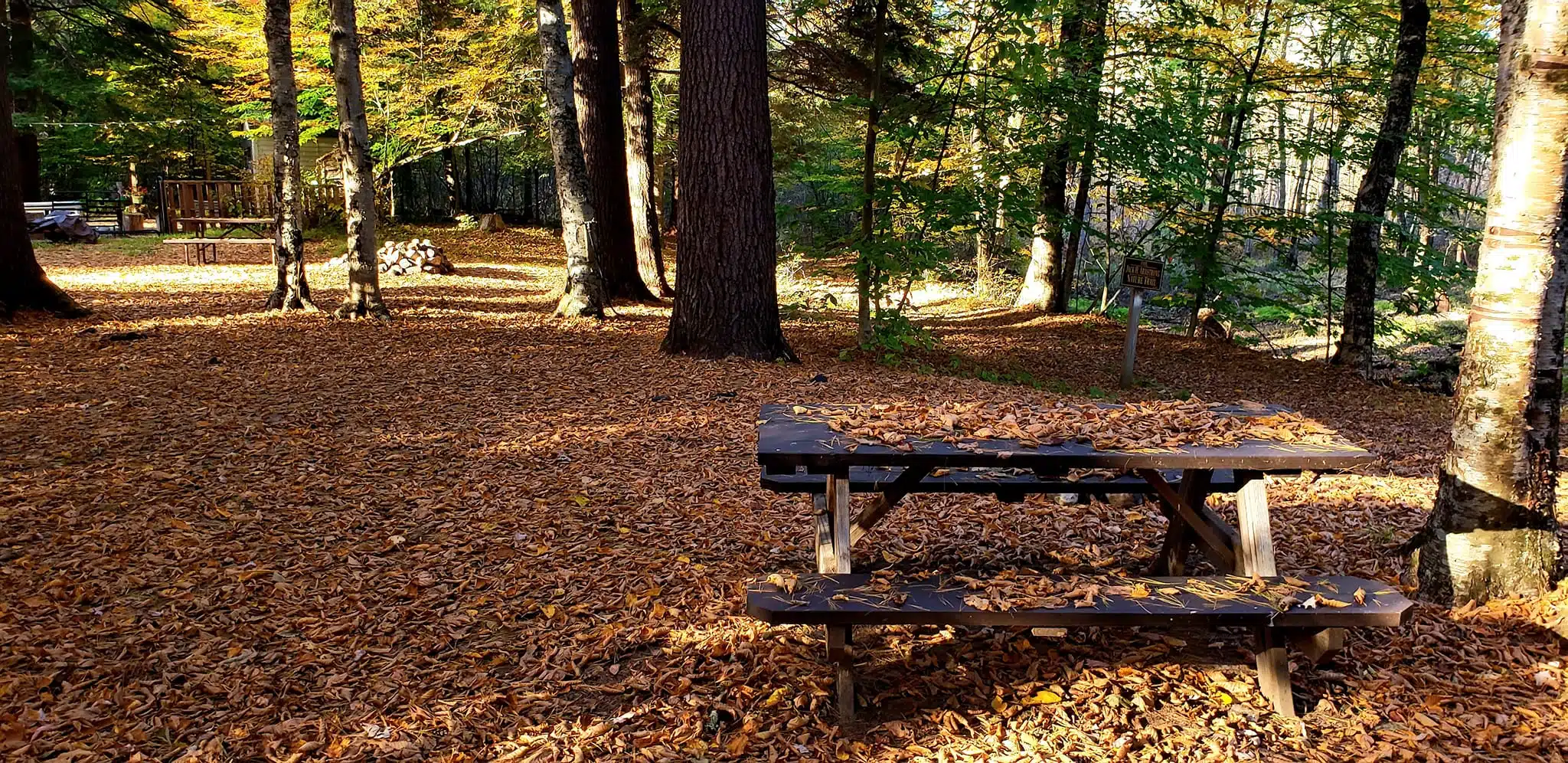 5 Reasons Adirondack Camping – Seasonal Campsites Might Be Right for You!
Have you ever considered living in a camper for part of the year?
When you book a specific campground for a long period of time and have the freedom to come and go as you like, you are engaging in seasonal camping. You'll have to do some digging to locate a campsite that works for your family and your budget, since seasonal camping costs and hours vary widely from place to place. In order to get a prime location during peak season, you'll need to begin planning far in advance. For Adirondack Camping – Seasonal Campsites here at Warrensburg Travel Park we recommend contacting us as soon as possible to ensure you get the perfect spot for your camping season.
Five Benefits of Adirondack Camping – Seasonal Campsites:
RVs are will not fit in the garage. Many individuals are part of HOAs that prohibit storing boats or recreational vehicles in the driveway or yard. Calculate the costs of a seasonal space if you will be paying storage fees anyhow. Finding a place to keep your RV or camper in a permanent location may not be that much more expensive.
You're even more eager to pitch a tent this year than you were before. Love camping but hate having to plan ahead and reserve a site. The RV is ready and waiting at your seasonal campsite. Simply bring yourself, some clean clothing, and a few days' worth of food.
As a result of your busy job and social commitments, you seldom get to relax and take longer breaks. Many American businesses no longer allow for two-week vacations for families, and many campers have trouble getting away for even a long weekend. Your employment may not allow for much flexibility in vacation planning, but a Adirondack Camping – Seasonal Campsites may help you make the most of the time you do have off.
In order to spend as much time as possible at the campsite, you should keep packing, setting up, and breaking down to a minimum. When the time spent packing, traveling, and returning home is taken into account, a weekend trip quickly becomes impossible. When you have a seasonal site, you may pull into the campground on a Friday night after a hard week of work and find your RV all set up and ready to go. The fact that you are not required to depart on Sunday morning is a major perk. Get some more sleep and savor that morning coffee. As a seasonal camper, you need not worry about checking out at a certain time.
You like to spend your free time in a neighborhood or community that is near your house. Look for a Adirondack Camping – Seasonal Campsites space near a place you visit often if it's within two hours of your brick-and-mortar residence. Your second home is right here in the heart of the Adirondacks minutes from Lake George and ready every moment for you to arrive and enjoy.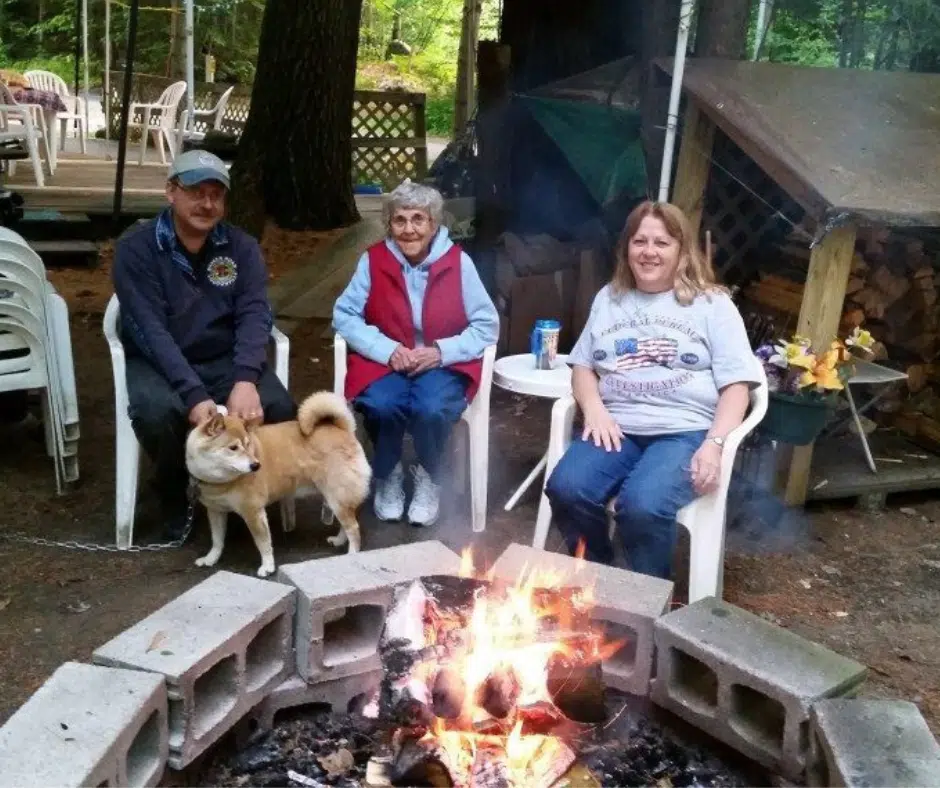 Margaret (Peg) LeFleur, shown in the center of the above photo, was a lovely and caring lady who was loved by her family and many guests at our campsite. We would want to maintain this photo on the internet as a memorial to her. She will be greatly missed!
OUR LIST OF TIPS FOR SAFE CAMPING WILL KEEP YOUR CAMPING OUTINGS SAFE AND ENJOYABLE.
If you've never been camping before, you may be concerned about your safety. This is a normal reaction.
While camping is a lot of fun, there are a few things you should know to keep yourself safe whether you're going for a weekend or a week. The accompanying camping safety guide will help you make the most of your next camping trip by ensuring the health and happiness of all participants.
1. Find a safe place and a suitable location.
Think about your own age, physical limits, and medical needs, as well as those of everyone else in your camping party, to ensure that you book the appropriate shelter and campsite. Tent camping, cabin camping, and RV camping all have different facilities, so it's important to pack for your destination in advance.
It's not necessary to carry a mattress, sleeping bag, or other sleeping arrangements when camping in a cabin because there are full mattresses and bunk beds available.
About 60% of campers still report choosing tent camping, despite the fact that RVs and cabins offer more conveniences and safety than tents. Tent campers can take advantage of our picnic tables, fire rings, convenient facilities and showers, and ample space to set up, eat, and socialize as a group.
2. Be sure to check the weather forecast frequently.
Prior to setting out on your journey, make sure to check the weather forecast. We all know that bad weather like rain, snow, and excessive heat and humidity may occur within an hour, so it's important to always be prepared. About one-third of campers are proactive and plan their excursions at least a month in advance.
3. Safely Pack and Store Food.
It's risky to leave food out on picnic tables or other unprotected surfaces, as animals may come to eat it. Put your food in airtight, watertight containers and keep it in an insulated cooler to avoid any unpleasant encounters with wildlife. Clean hands and a clean cutting board are your best defenses against food poisoning. Make sure you're using safe food handling procedures, as one in six Americans fall ill each year due to tainted meals.
4. Rehearse Camp Fire Safety
Campfires are only permitted in designated fire rings and must be kept at least 15 feet from any tents, bushes, or trees. It's safer to use a fire pit or similar structure to contain a small fire. Another rule to never break is to not watch a fire unattended. Keep a pail of water handy and always extinguish the fire before leaving or retiring for the night. Be sure to douse all the embers, not just the red ones.
5. Use Insect Repellant
Use a repellent that will keep working even if it becomes wet to avoid being bitten by mosquitoes, ticks, and other insects. Keep an eye out for ticks every day, especially in places where you wouldn't normally look. Avoiding insect bites is another good reason to dress for the weather and hike in long pants and sleeves. Put your clothes in the dryer on high heat for at least 10 minutes after returning from a hike or other outside activity to eliminate any ticks that may have hitched a ride indoors with you.
6. Remember Allergies
It's smart to bring your EpiPen or other medication for allergies just in case something comes up. As an added precaution, you should carry a first aid kit and keep an eye out for symptoms like lightheadedness, difficulty breathing, and swelling at the site of any bites or other places where plants or insects may have come into contact with your skin.
7. Sun Screen Protection Availability
The sun's ultraviolet (UV) radiation can still cause significant skin damage even on cloudy days, contrary to popular belief. The sun's rays are the strongest in the middle of the day, so it's important to take precautions like finding shade, donning a hat, or donning a pair of sunglasses. Wearing an SPF 15 broad-spectrum sunscreen and an SPF 5 lip balm is advised.
8. Drink Lots of Water
Drinking water when you're thirsty is only half the battle; staying hydrated also requires sipping water consistently throughout the day, regardless of whether or not you feel thirsty. A three- to five-day supply of bottled water is a minimum requirement for any emergency kit. Dehydration is usually already present by the time symptoms of thirst appear.
9. Be Aware of Animals
You can avoid attracting wild animals by keeping your food in a car, a bear-safe container, or a food storage facility. Make sure you don't touch or feed the animals you come across, but if that's not possible, at least be respectful. If you don't have access to running water, use a hand sanitizer that has at least 60% alcohol instead.
10. Have Fun and Be Alert
While camping may be a lot of fun, it's important to be aware of your physical demands and how your body responds to the surroundings. Try to keep your wits about you, get lots of rest, and cut down on the booze. Enjoy the great outdoors and make some new friends at your campsite; over the past three years, an estimated 3.4 million American households became regular campers.
Camping Safety Tips Info Gram