5 Great Hiking Locations Near Warrensburg New York
5 Great Hiking Locations Near Warrensburg New York – Numerous routes have been discovered to allow access to picturesque peaks, sites of interest, and other locations around Lake George. Over fifty kilometers of footpaths are identified with trail markers. Here are some Lake George and Adirondack hiking destinations close by:
(8 miles from Warrensburg Travel Park) The trail's round-trip distance is four miles. From the peak, there are magnificent panoramic views of Lake George and Lake George Village. Historic hotel and cog railway ruins In Lake George Village, turn west onto Montcalm Street from Route 9 and go five blocks to Cooper Street, turning right one block to West Street, and then turning left one block to Smith Street, where you turn left again. A little distance up is a bridge that spans the Northway on an elevated walkway.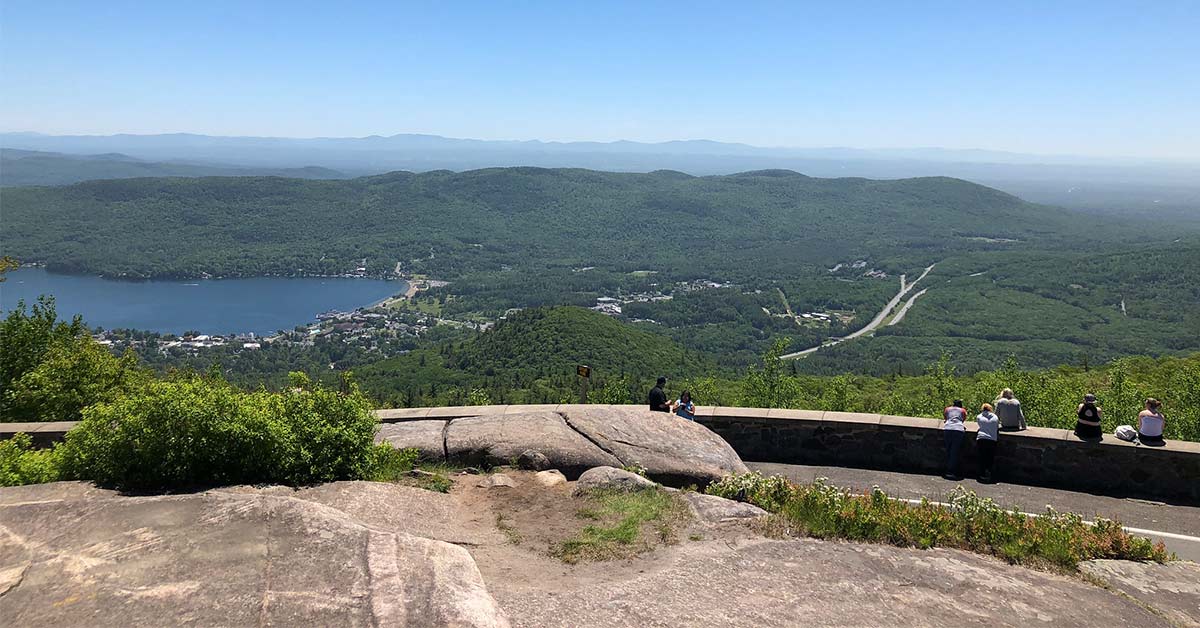 (14 miles from Warrensburg Travel Park). The trail is almost 6 miles long. The beautiful view of the mountains and boats makes for a wonderful trek. Buck Mountain is prominent on the eastern shore of Lake George, right below the lake's narrows.
There is a rocky peak with expansive views from west to north. Eastward views of the Sagamore Resort and Dome Island may be appreciated from the peak, which sits just opposite the settlement of Bolton Landing across the lake. Moving to a smaller rocky point just north of the genuine summit reveals distant views of the Tongue Mountain Range, Shelving Rock Mountain, Sleeping Beauty Mountain, and Black Mountain.
On the approach to the peak on the route from Pilot Knob, views of the southern section of Lake George, including the village itself, are visible. This is a popular mountain that can be reached without a lengthy journey. Throughout the summer, there may be a large number of hikers on weekends. Follow the Northway to Exit 21. Traveling along the east shore of Lake George on Route 9L, turn left onto Pilot Knob Road for three miles. (Where specified, follow the yellow DEC markers.) (With thanks to summitpost.org)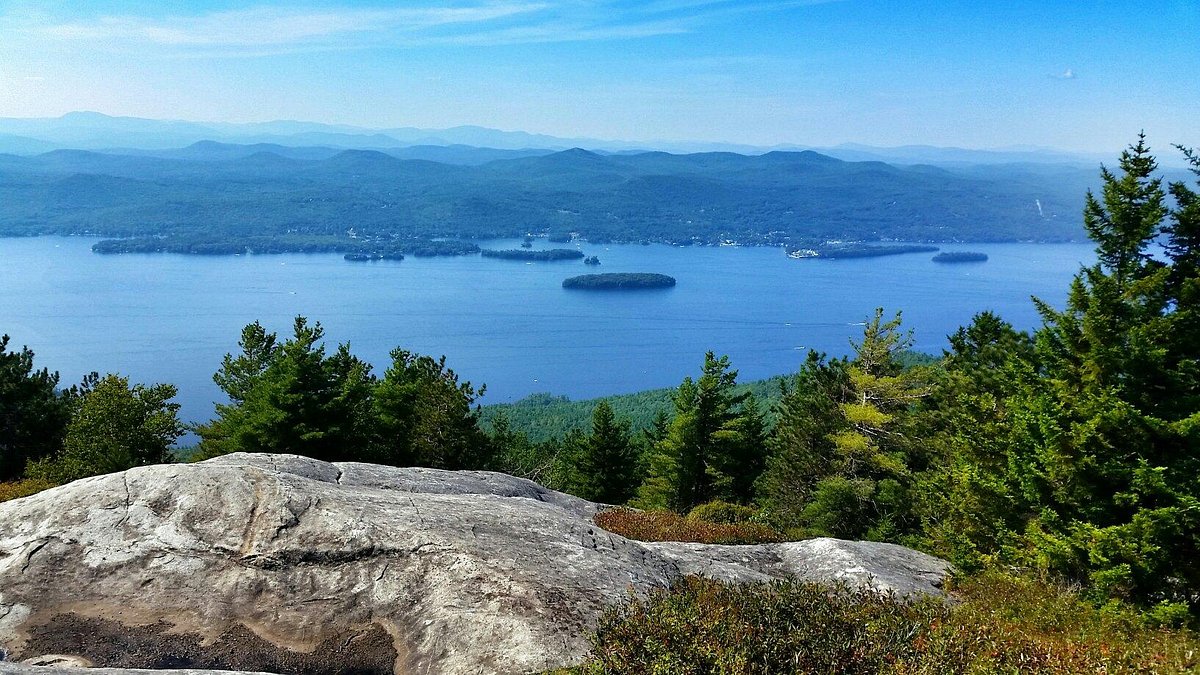 The 3rd on our list of 5 Great Hiking Locations Near Warrensburg New York is 16.5 miles from Warrensburg Travel Park) From the trailhead register (20 feet from the north end of the parking lot), a sign says that the right track is 1.8 miles to the top and 1.4 miles to Crane Mt. Pond.

The left track travels a distance of one mile to Putnum Junction and 1.9 miles to the pond. At approximately 0.5 miles up a side route to the left of the more direct right track to the summit, the first vista appears while ascending the more direct right trail to the peak. At 0.7 miles, a confluence with a path to the left is reached.
The pond is only 4 kilometers away. Continue straight to reach the peak. Just before reaching the top, a ladder is installed for climbing a rock ledge to reach the summit ridge. Immediately afterward, at a distance of 2.2 kilometers, the top may be found.
History
Formerly, a fire tower existed at this location, and the foundation and ranger cottage may still be visible. The route will continue around the top ridge before descending precipitously to the pond. From the original trailhead, the route follows an ancient road along Putnum Brook to Putnum Junction. Here, the route bears right and ascends to the pond.
At this intersection, you should investigate the cave behind the natural rock bridge, where Putnum Brook runs beneath the route. It is simple to pass under the route at this point, but care must be used before descending into the cave where the stream goes underground.
Crane Mountain is a short and enjoyable trek. The summit provides views of Lake George, Speculator, Snowy, and numerous other mountains. The Adirondack High Peaks can also be seen on the horizon in the distance. The additional work required to complete the 4.9-mile round-trip trek through the pond is definitely worth it.
From Route 8 in Johnsburgh, travel south along South Johnsburgh Road to access the trailhead. Then turn right along Garnet Lake Road in the Thurman hamlet. Travel 1.4 miles to a right turn marked by a brown and yellow DEC sign pointing to Crane Mountain. This stretch of road is comprised of dirt and is sometimes bumpy; therefore, caution is suggested. Continue for two kilometers until you reach a little dirt road on the right. This route is often inundated by beaver activity and may be highly hazardous. You may park here and walk half a mile to the trailhead parking lot. If you must drive this part, go with extreme caution and look out for the ruts and rocks. The parking lot can accommodate around a dozen automobiles.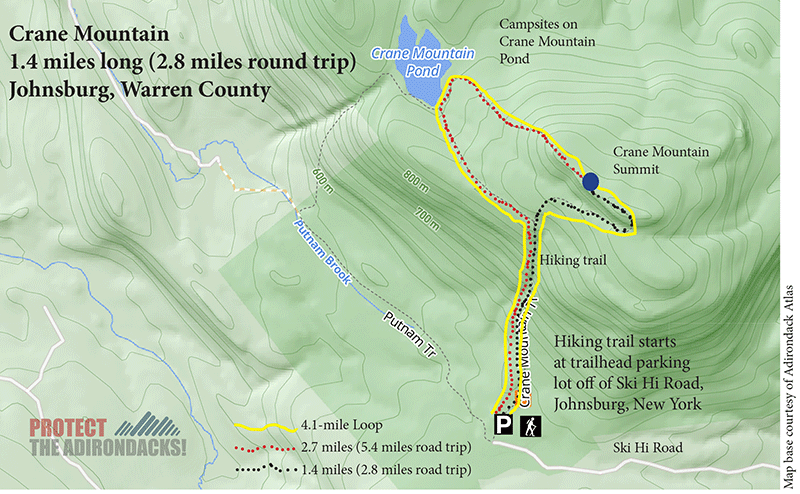 (18 miles from Warrensburg Travel Park)
4th on the list of 5 Great Hiking Locations Near Warrensburg New York is Hadley Mountain is a popular, short (1.8 miles) climb that offers spectacular views of the Southern Adirondack Mountains and Great Sacandaga Lake.
The single path starts at the trailhead parking lot, passes the historical marker, and immediately begins to ascend. Moments after leaving the trailhead, the hiking register is reached. A modest ascent following red trail markers goes through the forest on a route composed mostly of rocks.
After crossing back and forth across a small brook (which is dry during the summer), the route climbs sharply through fascinating stones and cliffs to a flat shoulder at around 1.0 miles. Following this short, moderate portion, the route becomes steeper and continues mostly on rocks to the peak. From clearings throughout the last half-mile to the peak, one may observe breathtaking vistas.
Like Snowshoe Hiking?
The descent follows the same track. From the peak of Hadley Mountain, the summit of Roundtop Mountain may be accessed through a 0.8-meter bushwhack in a northeasterly direction. This is a popular snowshoe track in the winter owing to its accessibility and length to the peak.
The first fire tower was constructed in 1916 as a response to major fires in the early 1900s. In 1920, this wooden tower was replaced by a steel tower, followed by a ranger's residence. The tower was decommissioned in 1990 but reopened in 1996 after being refurbished and manned seasonally.
1999 saw the addition of a historical marker that provides a short history of the tower. Hadley Mountain is a mountain in the southern Adirondacks in the state of New York. On September 23, 2001, the Hadley Mountain Fire Observation Station was added to the National Register of Historic Places for its use as a fire lookout tower for the New York State Forest Preserve. The tallest of the three summits that comprise the West Mountain ridge is Hadley Mountain. The trailhead parking lot is situated roughly 1.5 miles down Tower Road, which branches off Hadley Hill Road, in the New York town of Hadley, Saratoga County. Parking at the trailhead may accommodate 10 to 15 automobiles (courtesy of Wikipedia, the free encyclopedia).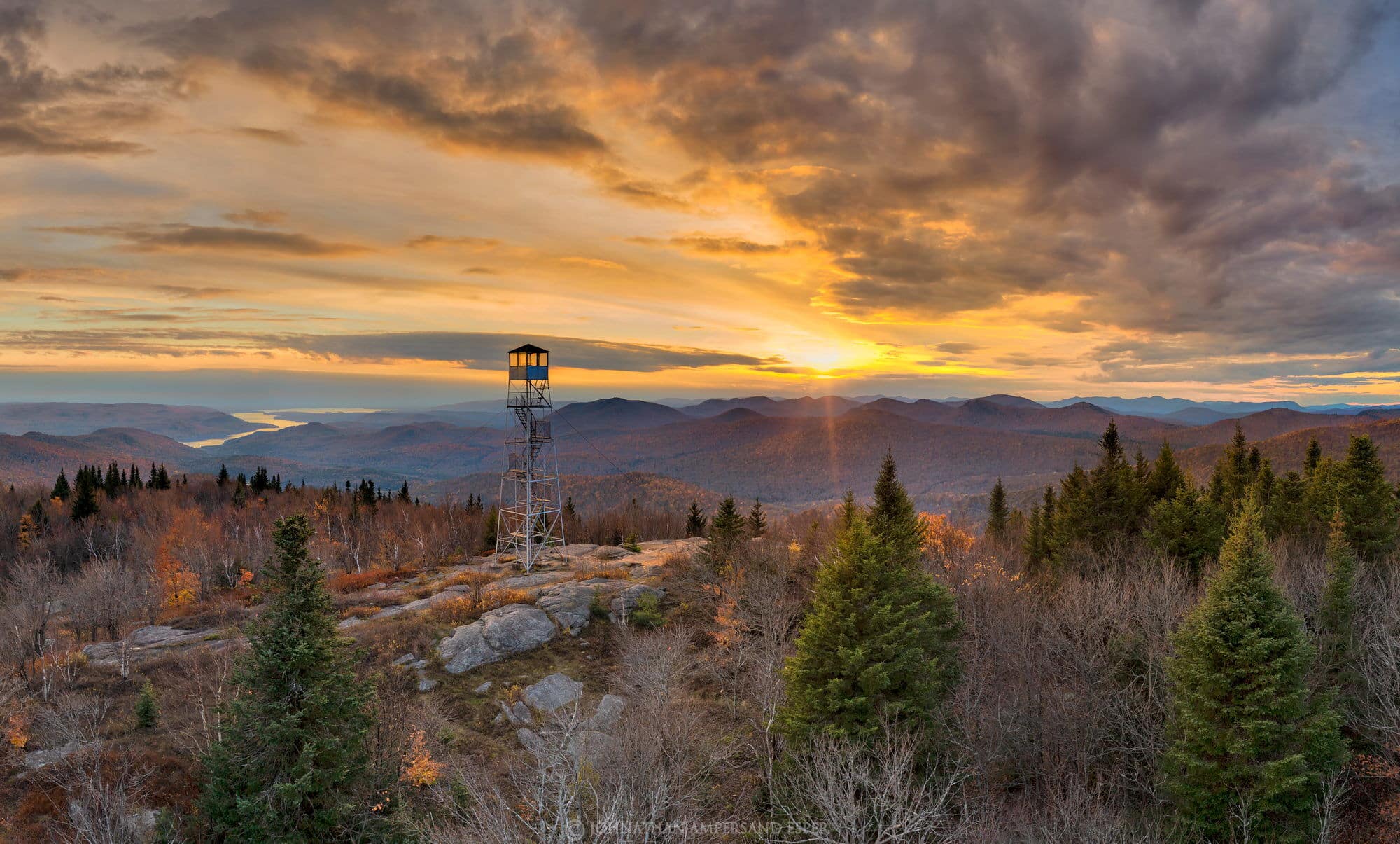 (26 miles from Warrensburg Travel Park) The trail's round-trip distance is 3 miles. There is a breathtaking view of the pond and surrounding woodland from the summit.
Trail activities include hiking, dog-assisted hiking, fishing, and backcountry camping. Free parking is available for multiple automobiles, including big trucks and trailers.
There are no toilets or water available. From Exit 20 of I-87 (Adirondack Northway), take Route 9 north through the Factory Outlets to the traffic signal. Turn right onto Route 149 east and continue for 6 miles to Buttermilk Falls Road. Turning left, travel 6 miles to the lower Hogtown Trailhead, which is situated 6 miles before Camp Little Notch and is marked with a CLN sign. Park to the right of the Butternut Brook Trailhead, somewhat to the north. Just before a bridge, turn right onto a road after traveling half a mile west.
You've Arrived
Here, the Inman Pond Trail starts. You will see a floating bog and an abandoned beaver dam along the route. Blue Ledges (38 miles from Warrensburg Travel Park) 2 1/2 mile trail The Blue Ledges are a picturesque place on the Hudson River, opposite the cliffs where the Blue Ledges route terminates.
At this spot, the river takes a right-angle bend and is loaded with large stones that, depending on the water level, may be considerably above the flow or part of a massive whitewater. There is also a stretch of sandy bank for waders. The trailhead is located along the North Woods Club Road (west of Route 28N, about 1.7 miles north of Minerva) just before Huntley Pond. The route is an excellent gravel road, except on days when the surface is being regraded, like the day I drove it. It descends to cross the Boreas River, an intriguing site to stop and explore the route. (Adirondack Mountain Club's courtesy)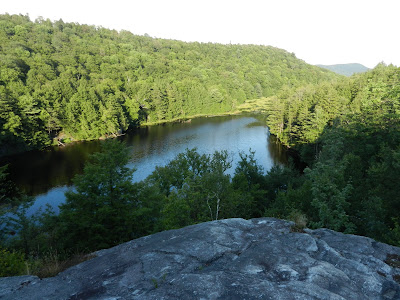 5 Great Hiking Locations Near Warrensburg – How to Plan Your Day Hiking Near Warrensburg, New York
Planning a day hike near Warrensburg, New York, can be a fun and rewarding experience, but it's important to prepare properly to ensure a safe and enjoyable trip. Here are some steps to consider when planning your day hike:
Choose a Trail: Research local hiking trails and choose one that is suitable for your skill level and interests. Consider factors such as trail length, elevation gain, and terrain difficulty.
Check Trail Conditions: Check the trail conditions before your hike, especially if you are planning to hike during the winter months. Make sure the trail is open and that the weather conditions are suitable for hiking.
Plan Your Route: Plan your route and make sure you have a clear understanding of the trail and any possible hazards, such as steep inclines, rocky terrain, or stream crossings.
Pack Essential Gear: Make sure you have the essential gear for your hike, including appropriate footwear, clothing, food, water, a first-aid kit, and a map or GPS device.
Follow Leave No Trace Principles: Make sure you follow the Leave No Trace principles, which encourage responsible and sustainable outdoor recreation, by packing out all of your trash, staying on designated trails, and avoiding disturbing plants and wildlife.
Be Prepared for Emergencies: Be prepared for emergencies by bringing a first-aid kit and a communication device, such as a cell phone or satellite phone. Make sure someone knows your planned route and expected return time.
Respect Wildlife: Respect local wildlife and give them plenty of space, especially if you encounter dangerous animals such as bears or mountain lions.
By following these steps, you can have a safe and enjoyable day hike near Warrensburg, New York.
5 Great Hiking Locations Near Warrensburg – 7 Tips for a Safe Day Hiking
Day hiking can be a fun and rewarding experience, but it's important to take steps to ensure your safety while on the trail. Here are some tips for having a safe day hike:
Plan ahead: Research the trail you plan to hike and make sure you understand the conditions, including the length, elevation gain, and difficulty level. Check the weather forecast and trail conditions before you go.
Wear appropriate clothing and footwear: Dress in layers, so you can adjust your clothing as needed based on the weather and your level of activity. Wear sturdy and comfortable hiking shoes that provide good support and traction.
Bring essentials: Bring enough food, water, and any necessary medications. Also, bring a map, a first-aid kit, a headlamp, and a fully charged phone or communication device.
Stay on the trail: Staying on the trail helps protect the environment and minimizes the impact on the natural resources. In addition, it helps prevent getting lost or injured.
Pay attention to the weather: Check the weather conditions regularly and be prepared to adjust your plans if the weather changes unexpectedly. Avoid hiking in extreme weather conditions, such as heavy rain, lightning, or high winds.
Know your limits: Hiking can be physically demanding, so it's important to know your limits and avoid pushing yourself too hard. If you feel tired or unwell, take a break, or turn back if necessary.
Be prepared for emergencies: In case of an emergency, bring a first-aid kit, and know how to use it. Make sure someone knows your planned route and expected return time, and carry a communication device, such as a cell phone, in case you need help.
By following these tips, you can have a safe and enjoyable day hike. Always remember to be prepared, stay aware of your surroundings, and respect the environment.