We offer a great line up of free TV programming!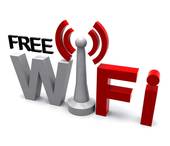 We offer

11 different portals of Wi-fi

with 100 Mbps (Mega bits per second) download per portal.  That's 1,100 Mbps download throughout the Campground so there is enough bandwidth to handle the heavy demand when there are a lot of people in the Campground.  Most Campgrounds and Hotels/Motels only have 100-200 Mbps. 
Everyone should get Wi-fi at their site! 

Portals

to connect to are as follows:
  Site 5, Brown Pump House, Site 131, Site 85, Site 150, Site 122, Site 77, Site 181, Site P2, Site 204 & Site 218.
This means everyone isn't using the same tunnel of bandwidth.  Your connections are spread out more throughout the Campground! 
Once you connect to the Site # listed above, use the

password

you can receive from the store, to get connected to the Wi-fi.  All lower case.
That means no restrictions, unlimited data and no extra charges of any kind!
Any questions or problems call or text Karl immediately at 518-605-9247. 
Happy surfing!