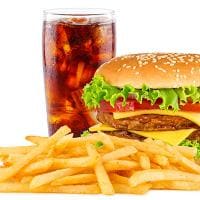 For a limited time purchase a New Seasonal Campground Site for the 2020 season, and get a Bonus, a limited number of
Seasonal Gold Passes to The Six Flags Great Escape & Hurricane Harbor

(formerly Splash Water Kingdom), Lake George, NY.  Includes

unlimited entry & free parking

to the Great Escape and entry to 14 affiliated Six Flags Parks and the Premium Dining Plan which includes a snack, lunch and dinner every day (

unlimited

visits all season long) Sports soda bottle with

unlimited

drinks, also! (always bring your bottle for refills) All included in your new Seasonal Site at Warrensburg Travel Park & Riverfront Campground.  New seasonals only. 

Not interested in Six Flags Great Escape passes

we will deduct a certain amount off our seasonal prices. Call Karl for those details. 518-605-9247. Current or new seasonal campers who purchased their site prior to 11/10/19 can buy the same package deal at a great discount! Call Karl for details 518-605-9247.  We are the only Campground, Hotel or Motel at this time to partner with The Six Flags Parks to get such a great deal!  Six Flags Great Escape is open. Free admission to

FRIGHT FEST!

Special days when you can bring a friend free!

Hundreds of dollars worth of in-park savings

!   Exclusive ride time events and much more…  Over

135 rides

and

attractions

and a

Huge Outdoor Waterpark!

 

Discount passes

available for daily overnight guests!
Call or Text

Karl

for

Seasonal Pricing

as it changes daily (518-605-9247), anytime


We will also have a free Transit Van going back and forth to the Six Flags park in Lake George & Million Dollar Beach in Lake George Village, many times a day, Memorial day weekend and then from July 3rd to Labor Day, free of charge for our campers!  We will also offer Daily Discount Tickets for friends and family.
Daily Transportation
Don't forget

to sign up ahead of time for the

Free – Daily Transportation

for Memorial Day Weekend and then from July 3rd through September 7th, 2020 and sign up for the Field Trips by the date on the chart on the Website for your Campground.


Sign up

in your Campground Store or call or text Karl at 518-605-9247 for your free ride.

You Must sign up the day before!




Departure from the Campground Store & Return times

, to and from the Great Escape & surrounding areas, are as follows:
Departure from Medcalf

– 9am, 11am


Departure from Warrensburg

– 930am, 1130am


Return Pickup from drop off point to Medcalf

– 3pm, 5pm


Return Pickup from drop off point to Warrensburg

–3pm, 5pm
*Be early for pick up as Van will not wait around for anyone.
We have 2 new Passenger Vans

Making Memories to Last a Lifetime!
We are going to have a Great Summer!
Wow, when you purchase your

New Seasonal Site

at our Campground you get 99% of the items pictured below, at your pleasure to use, ride and eat from the date The Great Escape opens - closing for the season.  Delicious  food, refreshing soft drinks, fun rides, fun animal characters and one of the

greatest Waterparks

in the Northeast!  Don't miss out!  We are the

only

campground, hotel or motel that includes all of this with your new Seasonal Site at this time.  And we are giving you free transportation to and from The Great Escape!  The Seasonal Gold Pass and Premium Dining Plan at The Great Escape & Hurricane Harbor (formerly Splashwater kingdom) is available for a limited time!  Call today at 518-605-9247.
Your Season Pass and Premium Dining can be used at 15 Six Flags theme parks
after your ID is made at The Great Escape. Road trip anyone?
La Ronde, Montreal
Six Flags America, Baltimore/Washington DC
Six Flags Discovery Kingdom, Vallejo
Six Flags Fiesta Texas, San Antonio
Six Flags Great Adventure, New Jersey
Six Flags Great America, Chicago
Six Flags Magic Mountain, Los Angeles
Six Flags Mexico, Mexico City
Six Flags New England, Springfield, MA
Six Flags Over Georgia, Atlanta
Six Flags Over Texas, Arlington, between Dallas and Ft. Worth
Six Flags St. Louis
Six Flags Frontier City, Oklahoma City, Oklahoma
Six Flags Darien Lake, Buffalo, New York
The Great Escape & Hurricane Harbor , Lake George, NY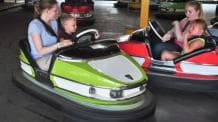 Your Season Pass ID must be processed at the Great Escape before visiting other parks. A Season Pass voucher will not be accepted for admission. Season Pass Parking and Pass Holder Value Book offers are only valid at the Great Escape.  Premium Dining and Drink Program is also valid at these parks.
Your Season Pass may not be used at:
Six Flags Great Escape Lodge & Indoor Waterpark, Lake George, NY
Six Flags Hurricane Harbor, Arlington, between Dallas and Ft. Worth
Six Flags Hurricane Harbor, Los Angeles
Six Flags Hurricane Harbor, New Jersey
Six Flags White Water, Atlanta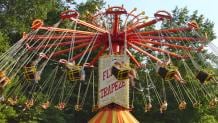 Water Park Information
We know that you are going to love your visit to The Great Escape & Hurricane Harbor. We want you to have an amazing day, and the information here will help make sure that your time with us is safe and enjoyable.
GENERAL WATER PARK RULES
Please keep an eye on your young children, they should not be left unattended.
Please do not bring coolers and/or glass containers to the park.
To make sure you have a safe experience, height, weight, and health restrictions are strictly enforced.
For water safety, make sure non-swimmers are accompanied by an adult who can swim.
Casts are not permitted on any slide in Hurricane Harbor. Waterproof casts are permitted in Captain Hook's Adventure River, Lumberjack Splash and the pools in Buccaneer Beach and Paul Bunyan's Bucket Brigade.
Please do not wear eyeglasses or jewelry in pools, as they may not be retrievable if lost during operation.
Face masks are not allowed in the water.
Since it can get so slippery, running is not allowed anywhere in the water park.
Smoking is prohibited in Hurricane Harbor.
During periods of high activity, it may become necessary to briefly close pools to maintain water clarity.
Swimming in Lumberjack Splash can be physically tiring; therefore, it will close for 15 minutes every hour.
Capacity is limited, so the park may not be available to all guests during peak times.
APPROPRIATE ATTIRE
To participate in the water park activities, you must wear proper swimsuits. The following is NOT permitted on the rides and in the water:
Provocative swimwear is not allowed. All swimsuits must be appropriate for a family environment.
Long Pants, Jeans or cutoffs are not allowed.
Swimwear with rivets, buckles, zippers or any metal ornamentation is prohibited.
Toddlers in diapers must wear an approved waterproof diaper (available at Beach Bum).
All children must be in appropriate swimwear.
Shoes, proper shorts, and cover-up attire are all required when returning to the theme park.

CABANA RENTAL
A limited number of Cabanas are available for rent. You will love the VIP treatment, not to mention the tropical setting of our luxurious, private cabanas. Cabanas are located next to Lumberjack Splash Wave Pool and provide a fantastic, relaxing place to escape the crowds when needed. Just ask about the cabanas when you arrive or rent yours online now.
HOURS
Check Six Flags Great Escape website to view all operating hours.
LIFE VESTS
Guests who are not fully confident in their swimming ability should wear a life vest. A life vest makes everyone feel more comfortable in the water and it's always better to be safe than sorry. They are free of charge and available at most water attractions on a first come, first serve basis. If you choose to bring your own personal flotation safety device, it must be U.S. Coast Guard-approved.
LOCKERS
If you don't feel like lugging your belongings around all day, locker rental is available. Just head over to Noah's Splashwater Lockers.
RAFTS & TUBE RENTAL
Rides that require tubes have them available at the attraction. Please use yours once, then hand it to the next person in line. If you want to rent a personal tube for the whole day, you can pick one up at the raft rental building. For your safety, no outside recreational flotation devices are allowed in The Great Escape & Hurricane Harbor.
RIDER SAFETY & RESPONSIBILITY
Hurricane Harbor has a vast array of fantastic rides and attractions. Each guest assumes the ordinary physical risk associated with normal operation of such rides and attractions.
SEASON PASS PERKS
As a special courtesy to our Season Pass Holders — they can flash their Gold Season Pass to enter Hurricane Harbor 10 minutes prior to water park opening to secure their seat in the sun (or shade)! Attractions will open as normally scheduled.
SUNSCREEN, EXHAUSTION & WATER
Don't forget to bring sunscreen or apply it before your visit!
To help prevent heat exhaustion, avoid overexertion and drink plenty of water.
WE HOPE YOU HAVE A FANTASTIC SUMMER!
(to be updated for 2020 when Great Escape posts)
From June 30 – July 4, The Great Escape is the premiere destination to celebrate our country, enjoy the summer and share great times with friends.  Independence Day is more than just a holiday, it's the ultimate American tradition. Coca-Cola July 4th Fest has everything you need for a star-spangled visit: exclusive ride times, fireworks all five nights, festive foods, and more!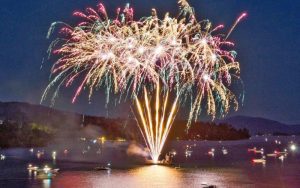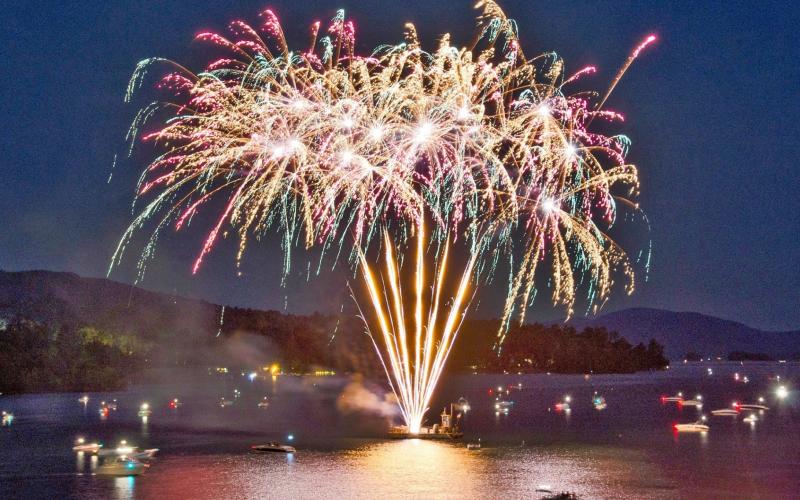 It's going to be the

Best

summer ever!
Park Operating Schedule 2019  (to be updated for 2020 when Great Escape posts)
May: 11-12, 18-19, 24-27, 30-31
June: 1-2, 5-9, 12-30
July: 1-31
August: 1-31
September: 1-2, 7-8, 14-15, 21-22, 28-29
October: 5-6, 12-14, 19-20, 26-27
*
*
*