To make your summer vacation the Best when visiting Medcalf Acres Riverfront Campground & Warrensburg Travel Park & Riverfront Campground we will be giving free transportation to the following local attractions for all campers, (seasonal or overnighters), for those staying and paying at our campgrounds.  See all details below!
The Great Escape & Hurricane Harbor (Click here) (formerly Splash Water Kingdom), Lake George Village, Lake George Steamboat Company (Cruises), Gooney Golf (Miniature Golf), Shoreline Cruises and Boat rentals, The Million Dollar Beach, The Fun Spot (offers go karts, laser tag, mini golf, roller skating, arcade, indoor playground, ninja challenge course and Daycare, all in one place) Prospect Mountain Veterans Memorial Highway (state park with panoramic views & Day use), Lake George Bowling Lanes and Games (offers bowling, laser tag, golf & baseball simulators with even more simulator choices and a great arcade), Fort William Henry and The Factory Outlet Stores in Queensbury.  Tubing transportation to the Bridge on the Schroon River will also be provided on Saturdays! 
We will also give transportation to Hacky Sack Mountain in Warrensburg, NY and Mt. Severance in Schroon Lake, NY for your daytime hiking pleasures.  These are both pretty easy hikes but make sure you get in shape to do them as you will possibly get tired easily.  Bring plenty of water, sun lotion and snacks!  Make sure you hike early enough so you don't come back in the dark and get lost.
When you are camping (staying and paying) at Medcalf Acres Riverfront Campground we will take you to Schroon Lake Beach, The Buffalo Farm, Schroon Lake Village and Fort Ticonderoga besides all of the fun places listed above near Lake George Village.
If you don't have the Great Escape/Hurricane Harbor Gold Seasonal Pass which includes free entry & free parking every visit and the Premium Dining Seasonal Pass (which includes free unlimited soft drinks and drink bottle, snack, lunch and dinner every visit) or a daily pass, please call or text Karl for pricing and details.  518-605-9247
Daily Transportation
Don't forget

to sign up ahead of time for the

Free – Daily Transportation

for Memorial Day Weekend and then from July 3rd through September 7th, 2020 and sign up for the Field Trips by the date on the chart on the Website for your Campground.


Sign up

in your Campground Store or call or text Karl at 518-605-9247 for your free ride. 

You Must sign up the day before!




Departure from the Campground Store & Return times

, to and from the Great Escape & surrounding areas, are as follows:
Departure from Medcalf

– 9am, 11am


Departure from Warrensburg

– 930am, 1130am


Return Pickup from drop off point to Medcalf

– 3pm, 5pm


Return Pickup from drop off point to Warrensburg

–3pm, 5pm
*Be early for pick up as Van will not wait around for anyone.
We have 2 new Passenger Vans

Making Memories to Last a Lifetime!
We are going to have a Great Summer!
Communications with the Campgrounds for your free transportation is the key to our success.  Garage Sale weekend and Columbus Day weekend not included.  All minors 17 and younger must be accompanied by an adult 25 and older.  No loud noise or music.  No profanity or offensive language.
Please read the rules and regulations at the bottom of this article to make sure you know what is going on. This information is vital for our safety and security.  Pets are not permitted at most venue's and are not allowed in our vehicles for the free transportation. Service dogs ok. All passengers must be a paid campsite customer in our campgrounds to participate on any trip.  Every trip is limited to the availability of seating.  First come, First serve!  No guarantees or promises to anyone. We will do our best to accommodate!  No cash value as all of the transportation is provided free of charge from the owners.
All children under the age of 4 must ride in a child safety seat provided by you as we do not supply them and all children between 4-8 years old must ride in a child restraint system provided by you as we do not supply them.   Safety seats and child restraint systems must be certified according to Federal Motor Vehicles Safety Standard 213.
All itinerary in this article is subject to change by the owners at anytime.  Please read all of the rules and regulations below in this article as you will be held accountable for your actions.  We want everyone to have a fantastic summer!  Any questions, please call or text Karl at 518-605-9247.
This is going to be the best summer ever!

Signing up for these trips, the day before or sooner is very important to make a pleasurable experience for you.  If we can take you on short notice we will try to accommodate, but we may not always be able to due so because of others signing up ahead of you and limited availability.
To make your summer vacation the best we will be giving free transportation to the following field trips listed below. These trips are for seasonal campers only.  Please review the venue, date, departure time, minimum number of people needed to go, if lunch is included or not and the cost to enter and participate at each venue at the bottom of this article and then sign up as soon as possible as there will be a limited number of spaces available to go on each trip. Call or text Karl at 518-605-9247 to sign up or for more information.  Some trips will include a free bag lunch with a soda or water.  Bag lunch will include a sandwich, chips, fruit & cookie.
Below, we have details about each Venue and a Video to watch.  Please read the rules and regulations at the bottom of this article to make sure you know what is going on.  This information is vital for the safety and security of all.  These trips are for seasonal campers only.  Check this out!  Great Escape Steamin' Demon Video
Three daily trips down the dam controlled Sacandaga River beginning June 20 through Sept 7 (Labor Day). This 3.5 miles trip is perfect for everyone and the minimum age is 5 years old. Every raft has a Wild Waters trained raft guide that will provide you and your family/group with a fun experience. There is a refreshing swimming section half way down the river and the big rolling waves at the end of the trip are a thrilling class III rapid for your enjoyment. Whitewater rafting on the Sacandaga River, located just 10 minutes from Lake George, NY in the Southeast Adirondack Mountains, is the perfect addition to your summer vacation.
We offer three daily trips down the Sacandaga River at 10:00am, 12:00pm and 2:00pm. Check-in is 30 minutes before designated trip time. For example, when you book a 12:00pm trip then you must arrive at 11:30am. Reservations are highly recommended because trips fill up quickly. The overall trip takes approximately 2 hours. Dress to get wet, we suggest wearing synthetic materials rather than cotton clothing. Sandals, sneakers(they will get wet) or waterproof shoes are required. You will not be permitted to go barefoot, or with flip-flops or slip-on shoes. We sell inexpensive waterproof shoes, eyewear straps and waterproof cameras at our base.
*Make sure to bring a set of dry clothes!
Includes: Guide, PFD, helmet (optional), paddle, transportation form our base to the river and back to your car and an awesome time!
Sacandaga River Summer Season starts June 20th and goes through 9/7 (Labor day)
Three trips daily at 10:00am, 12:00pm and 2:00pm
Pricing:
Per person according to age*
Child 5-12 | Adult 13 & up
June 20th through Sept 7th
Price per Child: $33
Price per Adult: $29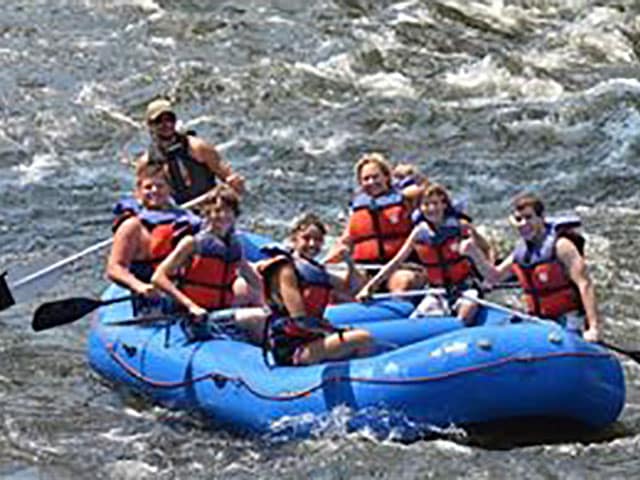 Explore The Wild Center and its new Wild Walk—an elevated trail across the Adirondack treetops. Find new ways to connect with nature through outdoor experiences like iForest and guided canoe trips, and explore a 54,000-square-foot museum with live animals and hands-on everything.
Current Hours
The Wild Center is open Fridays, Saturdays and Sundays, 10am until 5pm. Wild Walk is closed for the winter. Wild Walk will reopen in May 2020 on Fridays, Saturdays and Sundays, weather permitting.
Members
Free
Age 4 and Under
Free
Youth Ticket (5 – 17)
$10
Adult Ticket (18 – 64)
$17
Senior/Military Ticket (65+)
$15
Tickets are good for two consecutive days.
What would it be like to live on a web, hanging on a thread above the forest? The Spider's Web at Wild Walk is your chance to lay in wait, or walk across a web woven above the ground.
Wild Walk is accessible to people of all generations and abilities. There are side paths and options to take, suspension bridges, and stairs down, but the entire main structure, from the trail leading to Feeder Alley all the way to the viewing pod on the final tower platform was built specifically so that it would afford everyone the chance to experience the Walk.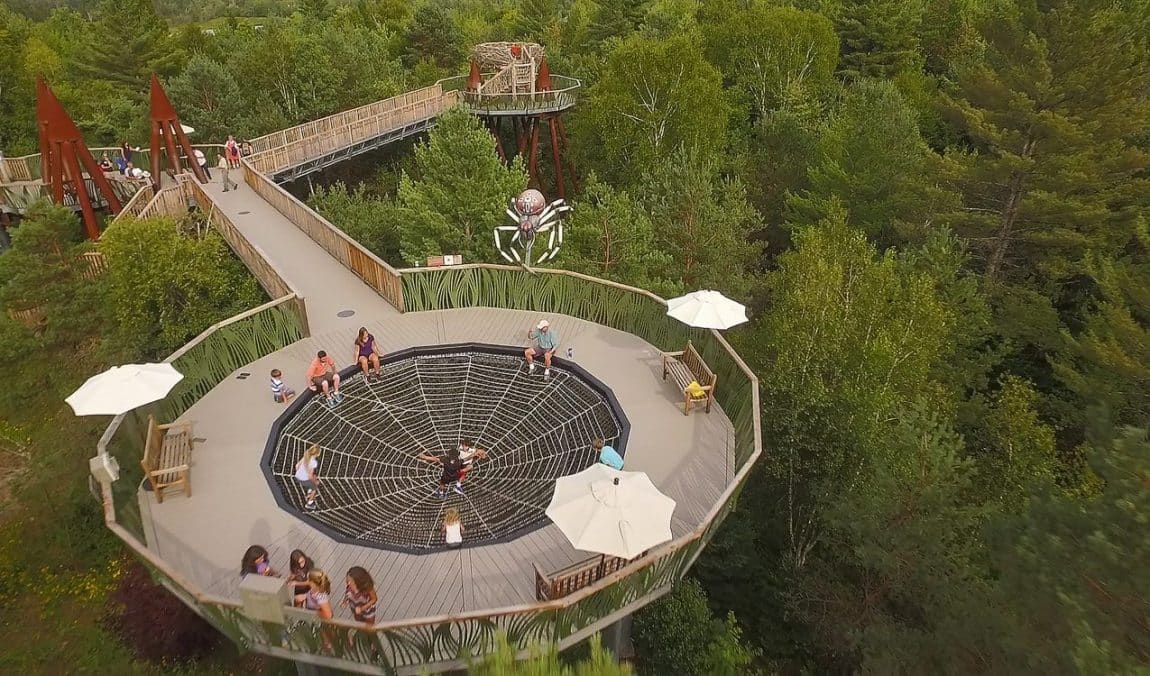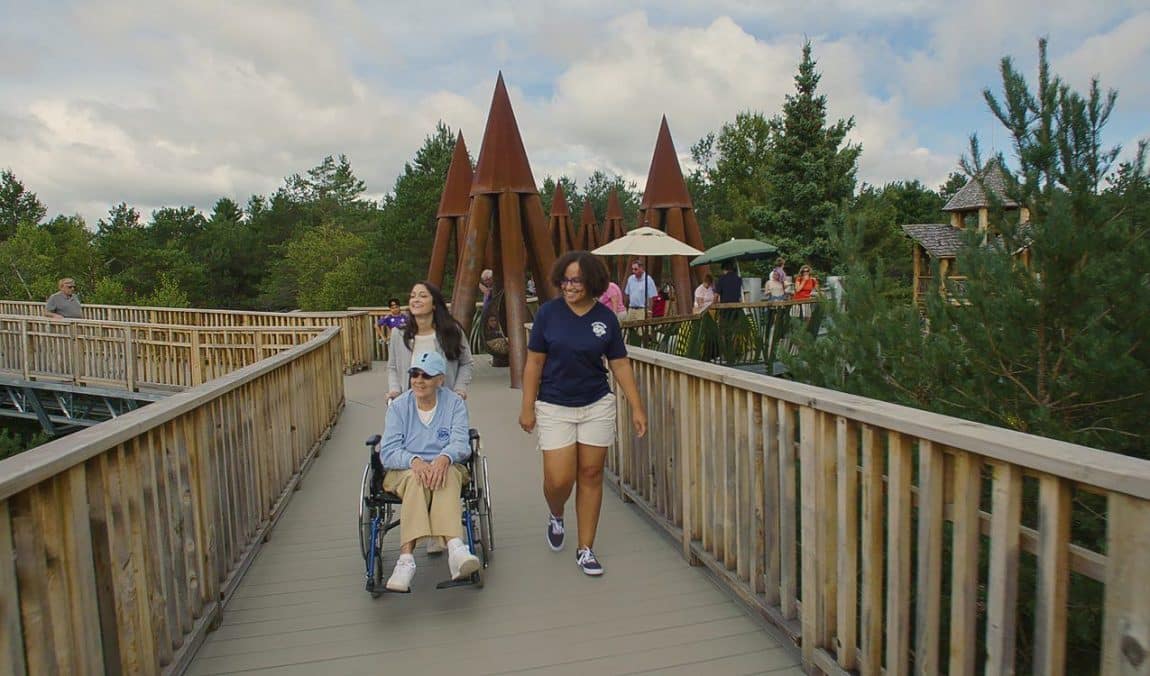 If you're looking for the hottest gaming action in New York , Rivers Casino & Resort Schenectady is the place for you. Enjoy slots? They have got 1,150 of the newest, hottest machines! Table games more your style? They have got over 67 of them ranging from Blackjack to Craps. You can't get a better gambling experience in New York or the Capital Region!  Restaurants, Hotel and much more…



Saratoga Springs was the site of standardbred racing as early as 1847.  On August 3, 1863, casino operator and future congressman John Morrissey organized the first thoroughbred race card on the track previously used for harness racing (and now the location of the Oklahoma Training Track).  The current course was opened across the street from the old standardbred track the following year.  Among those instrumental to the creation of the Saratoga Race Course were John Hunter (later the first chairman of The Jockey Club), William R. Travers, John Morrissey, and Cornelius Vanderbilt.
The Saratoga meet originally lasted only four days.  The meet has been lengthened gradually since that time; for many decades, the meet lasted four weeks and began in late July or early August. The meet today lasts a total of 40 racing days, with races held six days per week, and traditionally ends on Labor Day.
Saratoga Race Course has been in use almost every year since 1864, with only a handful of exceptions. The course was closed in 1896 due to increasing competition among thoroughbred tracks, making the meet at Saratoga not viable that season.  Anti-gambling legislation, which had passed in New York, resulted in a cessation in all thoroughbred racing in that state during 1911 and 1912. The track's first parimutuel betting machines were installed in 1940.  From 1943 to 1945, racing was curtailed at Saratoga due to travel restrictions during World War II. During those years, the stakes races usually held at Saratoga Race Course were instead contested at Belmont Park.
The late 1800s were a period of decline for the Race Course. In 1892 it was purchased by notorious gambler Gottfried "Dutch Fred" Waldbaum, the operator of the notorious Guttenberg racetrack in North Bergen, New Jersey. Finally it was purchased in 1901 by a group of investors led by William Collins Whitney, who made major improvements and restored its reputation.
In the 1960s, the grandstand was extended, doubling the track's seating capacity.
In 1999, Saratoga Race Course was rated as Sports Illustrated's #10 sports venue of the 20th Century.
Saratoga Race Course has several nicknames: The Spa (for the nearby mineral springs), the House of Upsets, and the Graveyard of Champions.
The Lake George Area does the Fourth of July right. Its combination of pivotal American history and traditional summertime fun and activities makes the region an American fixture. From tours of a historic fort to a day on a rental boat, the Fourth of July is a blast in the Lake George Area.  Overnight campers allowed on these trips.
The most revered holiday in our country's long history is a great time to vacation in the Lake George Area. The Fourth of July is a mid-summer extravaganza of fireworks displays, beaches, barbecues, and craft beers. Towns all over the Lake George Area are buzzing with the excitement of America's birthday. Grab a table at a waterfront restaurant and listen to a set by a local musician on the outdoor deck. Swim at a beach all day long, or rent a boat at a marina and celebrate the Fourth by fishing in Lake George. Go parasailing over the water or shop to your heart's content at the Factory Outlets. Remember the reason for the day and explore Fort William Henry, a crucial location in the story of American independence. End your Independence Day the classic way, with a Fourth of July fireworks show. Now that's a Fourth of July tradition worth keeping.  This is for Seasonal campers only!
Check out the weekly,  certain Thursday night fireworks at https://www.visitlakegeorge.com
Lake Placid hosted the Winter Olympics in 1932 and 1980. During the 1932 games, the trails outside of the village served for the cross-country skiing events and the cross-country skiing part of the Nordic combined event.  Lake Placid, St Moritz, and Innsbruck are the only sites to have twice hosted the Winter Olympic Games.
Jack Shea, a resident of the village, became the first person to win two gold medals when he doubled in speed skating at the 1932 Winter Olympics. He carried the Olympic torch through Lake Placid in 2002 shortly before his death.  His grandson, Jimmy Shea, competed in the 2002 Winter Olympics in Salt Lake City, Utah, in his honor, winning gold in the Skeleton.
In the U.S., the village is especially remembered as the site of the 1980 USA–USSR hockey game. Dubbed as the "Miracle on Ice", a group of American college students and amateurs upset the heavily favored Soviet national ice hockey team, 4–3, and two days later won the gold medal. Another highpoint during the Games was American speed-skater Eric Heiden's performance, who won five gold medals.
Ausable Chasm – Adventures in the Adirondacks
Explore the Grand Canyon of the Adirondacks. Come visit Ausable Chasm for an assortment of adventures you will not find at any other single location in the Adirondacks. Hike, float and/or climb as you go back in time as you experience one of the oldest natural attractions in the United States (Est. 1870). Immerse yourself in a primeval Adirondack forest as you stroll past Rainbow Falls, Elephant's Head, Column Rock, Hyde's Cave and the eerie quiet of Mystic Gorge. Descend hundreds of feet to walk on natural stone walkways and gaze upon eons of geologic history etched in stone.
Most visitors opt for the popular two-part Classic Tour that includes a breathtaking hike through the upper chasm followed by a scenic float (via raft) through the lower chasm on the legendary waters of the Ausable River. During the hot days of summer you can also cool yourself off with a relaxing Tube Ride down the river where you will float amongst the towering chasm walls and past the same amazing sights as the rafts.
Looking for more adventure? Try our Adventure Trail via ferrata located in the Upper Chasm. This family friendly (ages 8+) trail contains cliff walks and other daring elements such as cable bridges that crisscross over the roaring Ausable River. View the stunning Elephant's Head up close and personal and journey through Hell's Gate while en route to the breathtaking Inner Sanctum trail. Visitors also taking the float tour (raft or tube) should purchase our Premium Package as it comes with a nice discount. No reservations are needed all summer long!
Albany-Saratoga Speedway is a 4/10 mile dirt stock car race track with a long and storied history in the Capital District region of New York. It is conveniently located on Route 9 in Malta NY, and has been continuously hosting stock car races since 1965.  As soon as the 2020 dates are given by the speedway we will post, so please come back and check.
Adirondack Experience, located on NY-30 in the hamlet of Blue Mountain Lake in Hamilton County, New York, is a museum dedicated to preserving the history of the Adirondacks. The museum is located on the site of an historic summer resort hotel, the Blue Mountain House, built high above Blue Mountain Lake in 1876 by Miles Tyler Merwin, that operated until the late 1940s. The museum consists of 23 buildings, 121 acres, and 60,000 square feet of exhibition space. 
NEW: LIFE IN THE ADIRONDACKS
Our new 19,000-square-foot Life in the Adirondacks exhibition opened summer of 2017. This new exhibition serves as the starting point for your visit, and will provide an unforgettable experience of the entire region.
Fun for Everyone
Our Aerial Tree Top Adventure course is an elevated obstacle course set in the beautiful Adirondack Mountains and securely suspended between the trees at 10 to 60 feet off the ground.  Some of the features of course include giant Tyrolean Zip lines, suspended bridges, swinging surprises, Tarzan swings, nets and much, much more.  Take a journey and explore the outdoors like you never have before.
Welcome Center and Souvenir Shop
Our beautiful Adirondack style log welcome center offers much more than just our ticketing counter! Guests can purchase Adirondack Extreme merchandise as well as snacks and beverages. Have your picture taken experiencing all the action up in our trees. You can purchase a photograph of your adventure. Arrange for it in advance, or drop into our welcome center after your adventure, review your picture and then get a copy instantly.
Snack Bar/Picnic Area
Relax and recharge after playing in our aerial adventure course. Settle in on our 30 foot deck or take a seat in our relaxing picnic area, have a cold drink and watch the action in the trees. Enjoy the sounds of Alder brook racing through the Adirondack forest. Watch our guests zip across our two giant paralleled zip lines. We offer a variety of beverages which includes, soda, water, Gatorade, energy drinks as well as a variety of food products.
Safety
TreeGo offers the best equipment in its class and sets the standard for quality aerial adventure products and customer experience.  Each participant is given a safety demonstration by trained instructors before beginning the course. We want all of our visitors to have the most enjoyable experience imaginable, and that means providing you with the security of expertly engineered structures, quality materials and construction by TreeGo, along with continuous inspections of our equipment and our trees.
Safety is our first priority.
Saddle Up Stables is one of the Oldest and Largest stables in Lake George. Since 1945, our family has been offering horseback riding to families, summer camps and tourist visiting our area. Many generations of families still come to visit our stable year after year. Saddle Up Stables strives to offer the best trail rides and riding experience with our professional staff and friendly service.
LARGE SELECTION OF HORSES! Saddle Up Stables has beautiful, healthy and well groomed horses. We do our best to accommodate our visitors of all ages and sizes.
Rides leave at anytime from 9am to 5pm daily. Walk-ins are welcome during our business hours; no reservations are needed.
Scenic Trail Rides with views overlooking Lake George.
Hand led Pony and Horse Rides for any age!
Horses and Ponies for All Ages
Trail Rides take approximately an hour offering scenic views of Lake George.
Children must be 50? tall and 7 years old for the trail ride.
Hand led Pony Rides and Horse Rides are available for children of all ages.
Horses for Beginners to Experienced Riders
Long Pants and closed toe shoes recommended.
Helmets are provided free of charge. (required for under age 18)
Weight Limit 250 lbs
No carry on items are allowed to be taken with you on the horse. So please be prepared to leave your items at the stable office or your car. This includes, carry on bags, purses, backpacks, water bottles, etc. These items can not only be a distraction, but also any loud noise could frighten your horse and these items could be dropped making it unsafe. We will be happy to take your picture using your phone or camera when you return from the ride.
(DO NOT USE YOUR CELL PHONE WHILE RIDING A HORSE)

The Saratoga Gaming and Raceway, nicknamed the Racino, has the best in classic harness racing and brand new video gaming entertainment. The Saratoga Gaming & Raceway was the first video gaming property to open in New York State, accompanying the raceway, which has been a landmark and destination since 1941.
Over 1,000 video lottery terminals (VLT's) are housed here, and everyone is sure to find something they love! If it's live action you want, simply check out the Standardbred harness track, year round racing will thrill every guest!
The Racino is known for more than gaming – there are many options for food and fun! The food court offers fast and casual dining, so you don't have to stay away from the games for too long. Looking for a more elegant dining experience? Try Fortunes, the premier full service restaurant at the Racino. With the new a la carte menu and everyone's favorite buffet, Fortunes is an excellent choice for dinner! After you are finished eating, return to the gaming floor to continue winning and having a great time! There are also many pubs and bars for a quick refresher anytime of the day or night.
The Saratoga Gaming and Raceway has been a choice destination for many people over the course of time, and it remains a great destination, with the most thrilling harness racing, the premier video gaming experience, fabulous food and tons of fun! Come see why the Racino is the place to be!
The Garden Buffet, conveniently located on the gaming floor, gives you the variety you're looking for. Choose from Italian, Asian, American and Southwestern cuisines, along with a carving station, salad bar and an array of desserts. The variety of food in the Garden Buffet changes daily, so be sure to stop by to discover a different dish every day.
At just $13.95 for lunch and $15.95 for dinner, the Garden Buffet is a value that can't be beat.
Club 55 Pricing (Tuesdays only):
Signature Members -$5.95 lunch / $7.95 dinner
Preferred Members -$4.95 lunch / $6.95 dinner
Premier and Elite Members -$3.95 lunch / $5.95 dinner
Just show your Saratoga Club card and photo ID to receive the discounted price. Dinner service begins at 4pm.
Sunday: 10am – 6pm
Monday, Wednesday, Thursday: 12pm – 8pm
Tuesday: 11am-8pm
Fridays and Saturdays: 12pm – 10pm
Monday – Saturday dinner service begins at 4pm daily. Sunday dinner service begins at 2pm. Guests must be 18 years or older to dine at the Garden Buffet or any other restaurant on the gaming floor.
Not many people can say they grew up at a tourist attraction. My Dad, David Heldt did. That's what happens when you have a geologic wonder in your back yard. The site of what appears to be the largest natural marble cave entrance in the eastern United States has been a family business for more than five decades. It is located by the small town of Pottersville in New York's Adirondacks. A self-guided trail winds around waterfalls, potholes and deep pools. Trout Brook emerges into a gorge through several caves, some accessible on foot, others only with spelunking (cave exploring) gear. The history of Natural Stone Bridge and Caves goes back to the late 1700's and a land grant for fighting in the Revolutionary war. Today, it is run by my cousin Greg Beckler along with his wife Dee and children Jesika, Jennifer and Bryan.
Rates & Groups
Credit Cards Accepted: Visa, Master Card, Discover
Standard Summer Tour – 2020 (End of May-Mid Oct)
Adults
$15.50
Children (5-12 yrs)
$8.50
Children 4 and under are free!
No Reservations Required, arrive 90 min before closing (see hours).
Bring good walking shoes with rubber soles to climb up and down uneven steps on standard self-guided tour (see health restrictions ).
Follow a numbered map to explore the ¾ mile marked trail with signs at your own pace.
Most of the tour is above ground with optional descents into lighted caves.
Plan on spending about an hour for the tour and another hour for additional activities.
Upgrade to a SEASON PASS for extra $5.00 (added to cost of standard tour admission).
HOURS
TWO SEASONS of operation:
SUMMER (open daily) self-guided & guided tours, various activities, gift/rock shop.
WINTER (open Fri/Sat/Sun) self-guided tour, snowshoe rentals, small gift shop.
Summer Standard Self-Guided Tours
Tour Opens on May 17th
Please arrive 90 min before closing
Average visit time is ~ 2 hours, the tour is about 1 hour.
May 17th – September 7th
9am-6pm
September 8th to October 6th
10am-5pm
Cool Cave Tours
Are you ready for a fun and affordable family day out? How about a vacation full of learning for all ages? Whether you live in New York and want to take a day trip, or you are driving through the area looking for a fun affordable family vacation, Howe Caverns is one of the most exciting NYS attractions. Your family can spend the day or several days in the park and experience Howe Caverns above and below ground!
Every tour of Howe Caverns starts with a 156 ft descent below the earth's surface…
Your journey will wind through limestone corridors, cavernous galleries, under massive boulders, until you discover a subterranean riverbed carved over countless millennia. Deep in the cave, solid rock appears fluid: creating strange formations, flowing sheets and dripping stalactites. Mysterious grottos lead off into distant, unexplored passages. Shadows hide secrets in deep cracks and crevices. The well-worn path twists and turns descending into the depths, downward to the glassy surface of an underground lake that trails off into the absolute darkness of the cave's Eastern Terminus… this is the Howe Caverns ultimate experience.
The Traditional Tour
Experience a 90 Minute Walking Tour with Boat Ride
Enjoy the experience, descending 156 feet below the Earth's surface to explore six million year old caves. Your 90 minute journey begins in Lester Howe's above ground study where Howe himself will regale you with the story on how he discovered this great cave system. Your experienced tour guide will then lead you down (in an elevator) to The Vestibule where your journey continues. Travel through the enormous main cavern, immense galleries and under huge boulders which hang precariously overhead. You will experience the mystique of the River Styx, the wonders of Titan's Temple and The Giant Formation on your journey.
Cave Tours Open: Fri. thru Sun. 10am to 3pm
New Clear Bag Policy in Effect.
Cave Tour Pricing 
Traditional 90 Minute Tour
Adults
$25
Adults Ages 16 -64
Seniors
$22
Seniors Ages 65+
Juniors
$21
Juniors Ages 12-15
Children
$13
Children Ages 5-11
4 & Under
$0
Children Ages 4 & Under FREE
The Traditional Tour is our most popular Tour – (NO Reservations Required)
Anyone age 16 and under must be accompanied by an adult age 18 or older. Tax is included in price.
6 Million Years Ago
The Cretaceous Period
Scientists believe nature began to slowly craft Howe Caverns some six million years ago; long before even the ancient, extinct animal known as the woolly mammoth appeared on Earth. Age and beauty are not the only qualities that make our caverns unique. They also happen to be one of a very small number of mineral caves (living limestone cave) in the world. Long ago, the eastern part of New York State was covered by an arm of the Atlantic Ocean. Corals, sponges and many creatures similar to oysters, clams and snails were abundant in these waters. Many of these creatures built their shells from calcium carbonate, which they gathered from their watery home. As this sea life died, their empty shells and fine particles of dirt covered hundreds of feet of the ocean floor. At first, these deposits were very soft. As layers of new deposits fell to the bottom the pressure built up. The lower layers were pressed into a type of rock called limestone. As millions of years passed, the continent of North America rose slowly out of the ocean. This was during the Cretaceous period of Earth's early history some 65-136 million years ago.
Discovery By Humans, Early Explorers
Howe Caverns, which was discovered 20 years before the outbreak of the Civil War, has a history that follows America's transformation from a farm-based economy to an industrial nation. It was a time when great fortunes were made by leaders of the Industrial Revolution and a time when man was eager to exert his command over nature.
Prior to the arrival of the German Palatine Settlers in the Schoharie Valley in the early 1700s, the Indians knew what they called "Otsgaragee" or "Cave of the Great Galleries." In historical records, there is some disagreement as to this translation, which suggests the Indians explored deep into the cavern. A second translation is "Great Valley Cave," which may be more accurate, as many believe the Indians' superstitions may have kept them from exploring the cave.
The first white man to enter the cave did so in the early 1770s. Perhaps Johnathan Schmul, a peddler, had been calling on families in the mill town of Kobel's Kill (today, Cobleskill) when he sought refuge from an Indian attack by hiding at the entrance to the cave. Schmul later confided in a local pastor, Rev. John Peter Resig, "I found a cave when the Indians were after me. That's my home. But be mum about this. Should war break out, then flee to this cave and you will be safe." Schmul and Resig vanished quite suddenly from the historical records, as did the Indians of the Schoharie Valley, who fled the area with their Tory counterparts at the end of the American Revolution.
Rules & Regulations
Some trips require a minimum amount of people to make the trip happen
Subject to availability. Not responsible for the Venue's failure to open, close early or cancellation.
Owner reserves the right to make any changes at any time.  Not responsible for any changes in pricing at any venue.  Please call any venue in advance if you are concerned about their prices prior to departure.
Owner not responsible for cancellations due to rain, windy weather, lightning and other acts of god.  Owner not responsible for cancellations due to failure of Transit Van operation and/or Transit Van Driver canceling.  All efforts will be taken to reschedule trip in a timely manner.
For the Safety & Security of all we must make sure that the following rules are adhered to:
No Alcohol, underage drinking, Illegal Drugs, Vaping or smoking in the Transit Van
All carry-ons (such as back packs, bags, purses, briefcases, luggage, containers, coolers and anything else deemed to need to be inspected by the Campground Supervisor or Transit Van Driver will be subject to inspection.
Food is allowed in the Transit Van
Transit Van must be kept neat and clean at all times by passengers
Driver and/or Campground Supervisor is in charge at all times and makes final decisions about anything at anytime
You must be on time for any organized Field trip/Excursion.  Be 15 minutes early as Transit Van will leave on time and will not wait for anyone.  No refunds if you have prepaid and you miss the trip. If any damage is done to the Transit van by any passenger camper, the paid passenger camper will be responsible for the other passengers actions and will also be responsible to pay damages incurred or will be removed from the campground with no refunds.
All passengers must be accompanied by a paid camper.  No exceptions!
Transit Van Driver will be departing to return home no later than a half an hour after the field trip has finished.  Please do not be late as everyone will want to leave to get home as soon as possible after a long day of fun!  Be on time or you won't be allowed to take another trip.  Pets are not permitted at most venue's and are not allowed in our vehicles for the free transportation. Service Dogs ok.  All minors 17 and younger must be accompanied by an adult 25 and older.
Anyone deemed to be too intoxicated or on illegal drugs will not be allowed on the Transit Van or will be returned and not allowed to finish the trip.  Anyone fighting or being loud and disruptive will not be allowed on the Transit Van or will be returned and not allowed to finish the trip.  Anyone deemed to not follow these rules will not be allowed to take future trips and possible removal from the campground with no refund for the remaining part of the season.  Any unruly, unsafe or dangerous behavior will not be tolerated.  Please be on your best behavior for the safety and security of all others.  All passengers must be seated at all times when the Transit Van is in motion.  No exceptions!  These rules and regulations also apply at all venue's where the trip is taking place and must be adhered to at all times as you are a representative of our campgrounds while there. Some events may have physical, age, weight or size restrictions.  Please call ahead to the Venue you are going to if you have any questions.  We will not be responsible. No loud Noise or Music!
These trips should be a fun experience for all going on them and a great way to meet other  seasonal campers within the campgrounds!  We hope you enjoy your trip!  Safe travels!  If you have any questions, please call or text Karl at 518-605-9247.
This is going to be the

most FUN

summer, ever!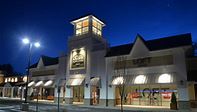 Factory Outlets, Queensbury, NY
List of Field Trips Below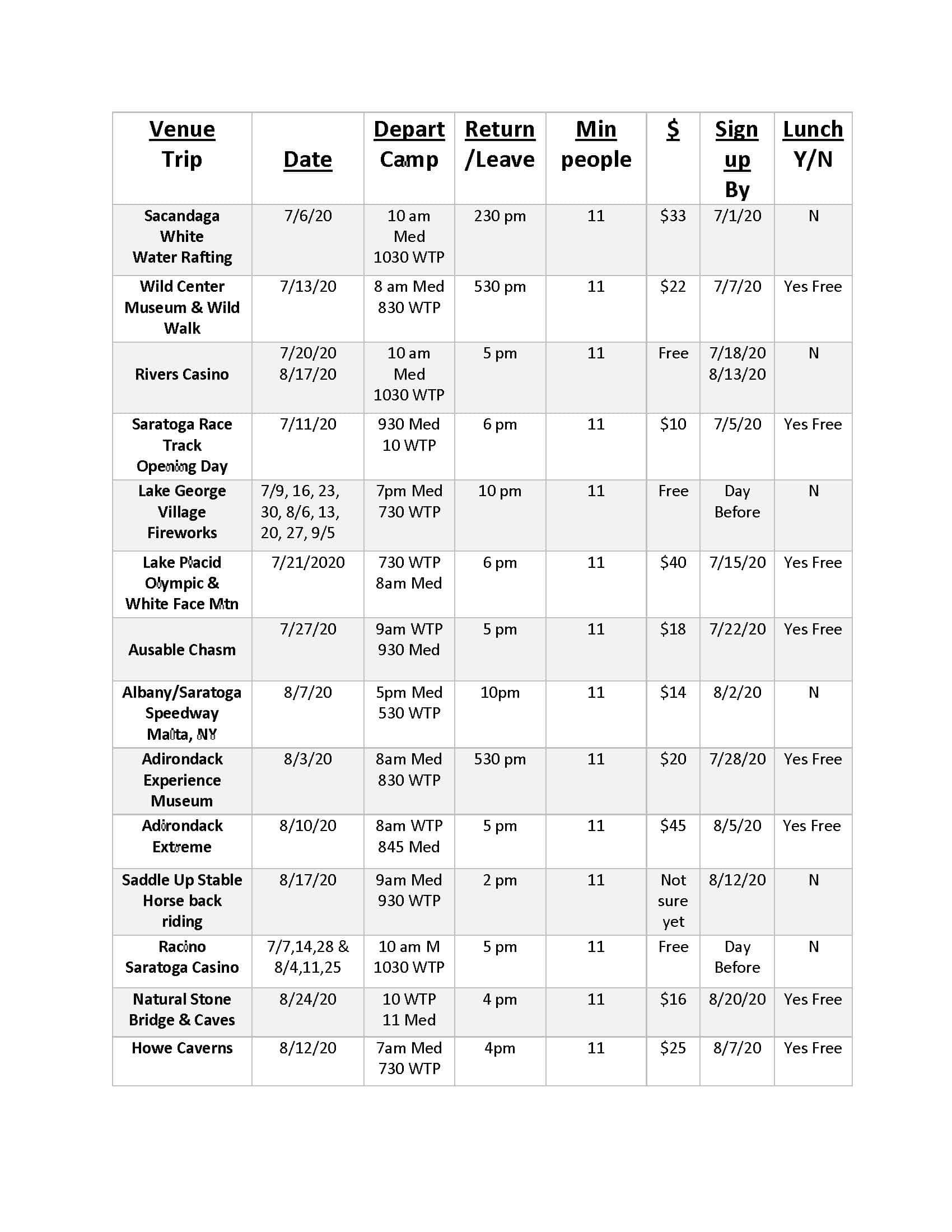 This is going to be the

best summer

ever!
Making Memories that will Last a Lifetime!