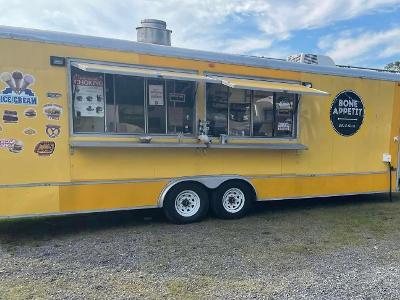 Delicious Food Trailer while camping in our Campground for 2023.  Please welcome Denise to our Campground Family!  Don't miss out on their wonderful food at our new Food Trailer for 2023.  There are many delicious options as you can see from the Menu below.  Items are subject to change at anytime and will be posted at the Food Trailer for your viewing.  There are different items for different tastes for everyone including ice cream and beverages.  The dates and times the Food Trailer will be open will be posted soon on Facebook, etc.  Click here to book your reservation today!

The Ultimate Food Trailer Experience at Our Campground in 2023
Are you tired of the hassle that comes with cooking and cleaning during your camping trip? Do you want to enjoy delicious food without having to leave the campground? Look no further than our location available starting in 2023! 10 minutes to Lake George Village!
Quick and Convenient
Gone are the days of extensive meal preparation and cleanup. With our great location, you can quickly and easily grab a bite to eat between your outdoor adventures. No need to worry about packing up all the kitchen utensils or trying to cook over an open flame. Simply walk up to our window, place your order, and voila! Amazing tasting food is ready for you.
Fresh and Flavorful
Our Menu offers a variety of options that are sure to satisfy any taste bud. From delicious wraps and milkshakes, we use only the freshest ingredients to create mouth-watering dishes. Plus, with daily specials and rotating menu items, there's always something new to try.
Community Vibes
One of the best parts about camping is being surrounded by like-minded individuals who share a love for the outdoors. Our food trailer adds another layer of community vibes as it serves as a gathering spot with picnic tables for campers looking to grab a quick bite or catch up with friends over some tasty treats.  Check out some of these cool looking Food Trailers.
Conclusion
In summary, our Food Trailer provides an easy and fast solution for amazing tasting food while camping at our campground in 2023. With its convenient location, fresh ingredients, and community atmosphere, it's truly a must-try experience for any camper. So next time you're planning your trip, be sure to add our Food Trailer to your list of must-dos!  Near Lake George!  Click here to book your reservation today!