Yankees vs Boston Red Sox Highlights || ALDS Game 2 || October 6, 2018 – Click here for Video
*

Date to be determined soon for 2021 because of Covid-19
Join us as we head to Yankee Stadium in the Bronx to see the New York Yankees vs the Boston Red Sox as they compete in hopes of one of them becoming WORLD CHAMPIONS! We will be going 2 hours early so we can visit Monument Park (see details below).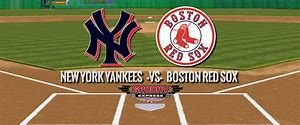 Boston Red Sox vs. NY Yankees – Main Level – Sat. July 25th, 2020, (1:05pm Game) – Privately Chartered Trip for our Seasonal Campers of Warrensburg Travel Park & Riverfront Campground and Medcalf Acres Riverfront Campground only!
Cost $140 each person, includes admission ticket (main level, round trip transportation & a bag lunch (sandwich, fruit, chips, cookie and non alcoholic beverage included). Bag lunch to be handed out during bus ride down. Please keep bus clean at all times. Dinner on your own at the Ball Park or eat before you go in, on the bus.  Tipping the bus driver at the end is appreciated!
You may bring other food and non alcoholic beverages on the Motor coach, not into the baseball game (Yankees Stadium). Water in an unopened sealed store bought container ok in the Stadium. NO ALCOHOL!
Game time to be announced
Pick up at Warrensburg Travel Park & Riverfront Campground and a pick up in Clifton Park (more details to come). Be on time as we will not be waiting for anyone and you will not get a refund if you miss the Bus! Be 15 minutes early is the best way!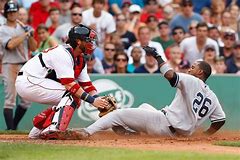 Once you book there are no refunds of any kind, for any reason, whatsoever.
This fun trip will be limited to the first fifty people that pay and sign up. Since seating is limited please do not wait. First come, First serve! If we have a terrific response, I will charter another bus for us. Last day to sign up will be June 30th, 2020. All ages ok! Children 20 and younger must be accompanied by an adult 25 and older.
Please Note: The bus parks 2-3 blocks from the stadium in a specific lot for motor coaches. The bus will NOT be able to drop off right at the gates, so be sure to wear comfortable shoes!
Return Information:
Motor coach will depart from the stadium approximately 30 minutes following the game. Non-stop each way. Don't miss your ride home by being late! We are not going to wait for you! Passengers will want to be going home!
There is ABSOLUTELY NO SMOKING or ALCOHOLIC BEVERAGES allowed on board the motor coach. All carry-ons will be subject to inspection by the motor coach operator at his/her discretion. Failure to adhere to this Policy will result in forfeiture of transportation (including each member of our party/group).
The following items are prohibited and may not be brought onto the premises:
• Bags larger than 16 x 16 x 8 inches, including backpacks, purses and small backpack purses
• Briefcases, large backpacks, large purses and bags, coolers and hard-sided bags and containers
• Glass, cans and unsealed plastic bottles • Laser pens • Video cameras • Laptop computers • Firearms or knives
• Beach balls, blow horns and all other distracting noisemakers • Any other devices that may interfere with and/or distract any sports participant, other patron, audio or audio/visual telecast or recording of the game or any technology-related service provided in the Stadium
• No bottles or cans are permitted in Yankee Stadium with the exception of transparent plastic water bottles. The water bottle must be full and factory-sealed. It cannot be a container from home, and it must only be filled with water. Exceptions may be made for empty plastic sports bottles, baby bottles, health-related materials and unopened soft-sided single-serve containers (such as small milk cartons, juice boxes, etc.). Exceptions may be made at the sole discretion of the Yankees.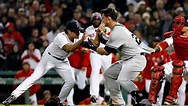 You're best behavior is appreciated! The Campground Supervisor reserves the right to refuse alcohol to anyone, who in our best judgment, is intoxicated at the game. Any unlawful conduct (including unlawful substance abuse (any illegal drugs), fighting or underage alcohol consumption), as well as unruly, unsafe or dangerous behavior by any passenger or ticket holder, as determined by the sole and absolute discretion of the Campground Supervisor, may be cause for termination from our campground for the rest of 2019 Season, without refund. Please have fun and be safe!
WHAT IF IT RAINS?
No matter what the weather is like at home, our tour will leave as scheduled. Many times it can be stormy in Albany and clear & sunny elsewhere. If the game is cancelled when we arrive or if the game is called due to rain before the fifth inning, the original ticket is valid for the make-up game (transportation on your own). If no make-up game is scheduled, the ticket must be exchanged at the Yankees ticket office for a ticket of the same price for any future regularly scheduled game within 12 months. Transportation is not included with the rain-out tickets. If the game is cancelled after the fifth inning it is considered a full game and no rain-out tickets are issued.
Monument Park is an open-air museum located in Yankee Stadium in the Bronx, New York City, containing a collection of monuments, plaques, and retired numbers honoring distinguished members of the New York Yankees. When Red Ruffing's plaque was dedicated in 2004, his son called it "the second-greatest honor you can have in baseball, in my opinion" trailing only induction into the National Baseball Hall of Fame.[1]
The history of the original Monument Park can be traced to the old Yankee Stadium in 1932, when the team posthumously dedicated an on-field monument to manager Miller Huggins in center field. Additional team members were honored with monuments and plaques in the area over the years. During the stadium's renovation in the mid-1970s, the center field fence was moved in 44 feet, enclosing prior monuments, plaques, and a flag pole beyond the field of play. Over time, additional plaques were added to the area and "Monument Park" became formalized; in 1985, the park was opened for public access. When the Yankees moved to their new ballpark in 2009, a replica Monument Park was built beyond the center-field fences and the contents of the old one transported over.
Thirty-seven members of the Yankee organization have been honored in Monument Park, while 22 have had their uniform numbers retired. Plaques in Monument Park are a great honor for players so distinguished. The monuments mounted posthumously on five large red granite blocks are the highest honor of all. Only six Yankees have been so recognized: manager Miller Huggins, players Lou Gehrig, Babe Ruth, Mickey Mantle, and Joe DiMaggio, and owner George Steinbrenner.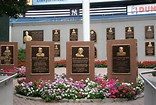 This should be a fun experience for all going and a great way to meet other campers within the campgrounds!